Firefox 69 + Chrome 77 On Windows 10 vs. Ubuntu / Clear Linux Benchmarks
Submitted by Rianne Schestowitz on Tuesday 8th of October 2019 04:52:19 PM
Filed under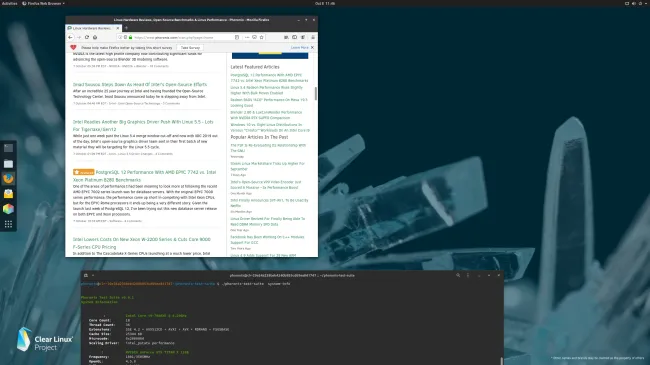 With running some fresh cross-OS benchmarks now that Ubuntu 19.10 is imminent followed by Ubuntu 19.10, a new Windows 10 update coming in the days ahead, and also the release of macOS 10.15, a lot of fun benchmarks are ahead. In today's article is a quick look at the Windows 10 vs. Ubuntu 19.10 vs. Clear Linux web browser performance for both Mozilla Firefox and Google Chrome.
For this round of benchmarking was Windows 10 Pro Build 18362, Ubuntu 19.10 with its latest packages as of 6 October, and Clear Linux 31210 all running on the same system. The system used for this round of benchmarking was the Intel Core i9 7980XE with ASUS PRIME X299-A motherboard, 4 x 4GB DDR4-3200 Corsair memory, NVIDIA GeForce GTX TITAN X with the NVIDIA proprietary drivers, and Samsung 970 EVO 500GB NVMe SSD for storage.
Via the Phoronix Test Suite (https://www.phoronix-test-suite.com/) a range of browser tests were run via Firefox 69 and Chrome 77 on each of these three operating systems under test. Again, a larger OS comparison also including macOS and the newest Linux/Windows updates will be forthcoming as well over October and into November thanks to the existing autumn update season.
»
Printer-friendly version

2814 reads

PDF version
More in Tux Machines
Mobile/Desktop Convergence

Mobile/Desktop convergence is something that Purism had planned and has been developing since the launch of the Librem 5. It all started with the amazing work that Adrien initiated with the libhandy library, that let the default Librem 5 applications be adapted from the exact same applications running on the laptops. Now the Librem 5 team is moving a step further by letting the Librem 5 being used as a real desktop computer by simply plugging it into an external monitor, keyboard and mouse through a single USB hub. The feature is still under active development at the time of writing this article, but the different components are starting to come together and it is already pretty functional.

today's howtos

Games: RetroArch, PulseAudio, Anarch

With the awesome RetroArch application for running emulators and all sorts coming to Steam, they now have a Playtest available you can opt into to try it out. Using the new dedicated Steam Playtest feature announced by Valve in early November, developers can have a banner on their Steam store page letting users request access. So the Libretro team have put this up, and as of today it also has Linux builds available for testing.

While in 2021 we might begin to see PipeWire replacing PulseAudio by default at least on bleeding-edge distributions like Fedora, for now PulseAudio still is the dominant sound server used by desktop Linux distributions. Rolling out today is PulseAudio 14.0. PulseAudio 14.0 comes with many changes compared to PulseAudio 13.0 that shipped all the way back in September of 2019.

I've argued that the video-game "Doom" is a sort of cultural version of Turing Completeness. Given that we're jamming computers and screens into just about any device these days, inevitably (and delightfully) someone gets it to run Doom: Watches, digital cameras, ATMs, pregnancy sticks. But you know what's even cooler? Creating your own new, original game in the exactly style of Doom, and making it so wildly resource-efficient that it fits in under 256K and will run on just about any computational device around. That's what the programmer Miloslav Číž has done, with his new game "Anarch". You can play it in your browser here or download it here; I just blasted away in it for a while, and it's a hoot — he neatly channels the mechanics and twitchy low-rez aesthetics of the original. Gameplay trailer is here; he put it in the public domain, and the code is all here on Gitlab.

Announcing Istio 1.6.14

This release contains bug fixes to improve robustness. This release note describes what's different between Istio 1.6.13 and Istio 1.6.14 More:

As previously announced, support for Istio 1.6 has now officially ended. At this point we will no longer back-port fixes for security issues and critical bugs to 1.6, so we heartily encourage you to upgrade to the latest version of Istio (1.8) if you haven't already.