Firefox 69 + Chrome 77 On Windows 10 vs. Ubuntu / Clear Linux Benchmarks
Submitted by Rianne Schestowitz on Tuesday 8th of October 2019 04:52:19 PM
Filed under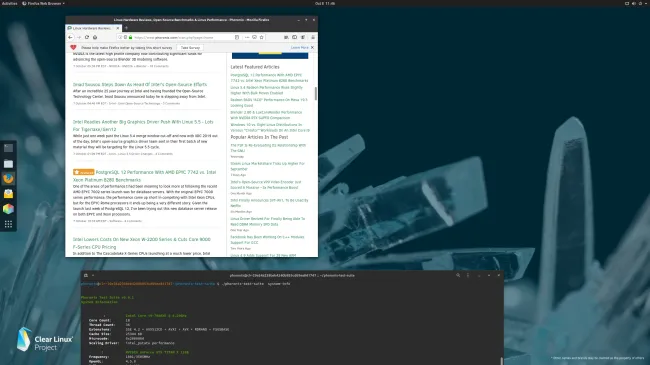 With running some fresh cross-OS benchmarks now that Ubuntu 19.10 is imminent followed by Ubuntu 19.10, a new Windows 10 update coming in the days ahead, and also the release of macOS 10.15, a lot of fun benchmarks are ahead. In today's article is a quick look at the Windows 10 vs. Ubuntu 19.10 vs. Clear Linux web browser performance for both Mozilla Firefox and Google Chrome.
For this round of benchmarking was Windows 10 Pro Build 18362, Ubuntu 19.10 with its latest packages as of 6 October, and Clear Linux 31210 all running on the same system. The system used for this round of benchmarking was the Intel Core i9 7980XE with ASUS PRIME X299-A motherboard, 4 x 4GB DDR4-3200 Corsair memory, NVIDIA GeForce GTX TITAN X with the NVIDIA proprietary drivers, and Samsung 970 EVO 500GB NVMe SSD for storage.
Via the Phoronix Test Suite (https://www.phoronix-test-suite.com/) a range of browser tests were run via Firefox 69 and Chrome 77 on each of these three operating systems under test. Again, a larger OS comparison also including macOS and the newest Linux/Windows updates will be forthcoming as well over October and into November thanks to the existing autumn update season.
»
Printer-friendly version

1461 reads

PDF version
More in Tux Machines
Release of PyPy 7.2

As always, this release is 100% compatible with the previous one and fixed several issues and bugs raised by the growing community of PyPy users. We strongly recommend updating. Many of the fixes are the direct result of end-user bug reports, so please continue reporting issues as they crop up.

Version 7.2 of PyPy, an implementation of the Python language, is out.

PyPy 7.2 is out today as a big update for this alternative Python implementation that currently provides interpreters for compatibility with Python 2.7 and Python 3.6. In cooperation with Arm and Crossbar.io, PyPy developers have been working on complete 64-bit ARM (AArch64) support and this summer they achieved getting the PyPy JIT running on 64-bit ARM. PyPy 7.2 is the first release with this 64-bit ARM support now in good standing.

today's leftovers

With devices beginning to hit store shelves using the new Intel WiFi 6 AX200 series chipsets, the firmware binaries have landed in linux-firmware.git for rounding out support for these latest WiFi/Bluetooth adapters. For a few kernel releases now since earlier this year these new Intel wireless chipsets have been supported by the mainline kernel but the firmware hasn't been part of the de facto linux-firmware.git tree that houses the various firmware binaries for different hardware component support under Linux.

The Gentoo distfile mirror network is essential in distributing sources to our users. It offloads upstream download locations, improves throughput and reliability, guarantees distfile persistency. The current structure of distfile mirrors dates back to 2002. It might have worked well back when we mirrored around 2500 files but it proved not to scale well. Today, mirrors hold almost 70 000 files, and this number has been causing problems for mirror admins.

There was a recent update in my repository of LibreOffice packages, but that libreoffice-6.3.2 was just for slackware-current. There's a recent release in the LibreOffice 6.2 stable series as well (ok… five weeks ago, not that recent…), and so I decided to use my build box's free weekend to come up with packages for LibreOffice 6.2.7. This release has a security improvement over previous versions, in that it will popup a warning to the user if a document tries to run an embedded script (similar to existing warning mechanism for embedded macros).

Graphics and Standards

SHADERed is the open-source, cross-platform project for creating and testing HLSL/GLSL shaders. While a version number of 1.2.3 may not seem like a big update, some notable additions can be found within this new SHADERed release.

Succeeding Vulkan 1.1.124 one week later is now Vulkan 1.1.125 with a lone new extension. Vulkan 1.1.125 has its usual clarifications and corrections to this graphics API specification. Meanwhile the new extension introduced in the overnight v1.1.125 release is VK_KHR_spirv_1_4.

For the first time, people who are deaf or hard of hearing will be able to enjoy the Nairobi leg of the Human Rights Watch Film Festival, opening on October 15.

New Videos: A Look at Xubuntu 19.10 and Crunchbang++ 10

In this video, I am going to show an overview of Xubuntu 19.04 and some of the applications pre-installed.