German ministry hellbent on taking back control of 'digital sovereignty', cutting dependency on Microsoft
Submitted by Rianne Schestowitz on Thursday 19th of September 2019 08:51:40 PM
Filed under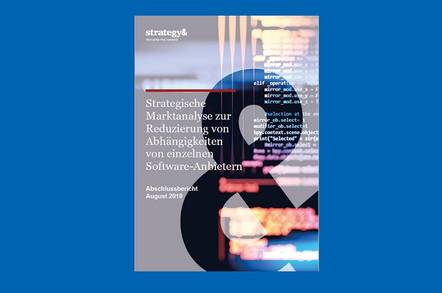 The Federal Ministry of the Interior (Bundesministerium des Innern or BMI) in Germany says it will reduce reliance on specific IT suppliers, especially Microsoft, in order to strengthen its "digital sovereignty".
In an official statement, the Federal Minister of the Interior Horst Seehofer states that "in order to ensure our digital sovereignty, we want to reduce dependencies on individual IT providers. We are also considering alternative programs to replace certain software. This will be done in close coordination with other EU countries."
BMI commissioned a strategic market analysis from consultants PwC, resulting in a paper that was published last month. The paper examines the risks inherent in IT dependency on commercial software vendors, with a particular focus on Microsoft because of the heavy use of its products and the way they are interconnected, especially Microsoft Office, Windows, Windows Server and Office 365.
»
Printer-friendly version

1878 reads

PDF version
More in Tux Machines
Brave Browser and DRM With 'Open' Veneer

OSS and Sharing Leftovers

Openwashing Leftovers

In the cryptocurrency world, very few people pay for something they can get for free otherwise. Casa, a Bitcoin startup focusing on hardware network node solutions, is open-sourcing its project entirely.

Open source availability enables existing InterSystems partners and customers, as well as other organizations and academics, to capitalize on the unique and unbiased bottom-up approach that delivers deeper insights with NLP provided by InterSystems iKnow.

Becoming a DSP requires modernizing operations support systems (OSS) and business support systems (BSS). CSPs must work closely with independent software vendors (ISVs) and systems integrators (SIs) to move current OSS/BSS solutions to the cloud-native, common, open-software technology base of the future.

By releasing this open source, TTC Foundation expects to increase the interest on blockchain among the developer community. The source code, now accessible by the public, will empower the community to develop and launch high quality DeFi services - equivalent of the internet banking services on blockchain - with little to no efforts, It will provide more options to cryptocurrency holders to benefit from daily financial services such as staking rewards and collateralized debt.

Writing software to run efficiently on today's heterogeneous compute architectures is an ongoing challenge made increasingly difficult by the growing number of processor and accelerator choices. One effort to help mitigate the challenge is the high level programming model – SYCL – developed by the Khronos industry consortium. SYCL builds on OpenCL (Open Computing Language) and "enables code for heterogeneous processors to be written in a single-source style using completely standard C++."

Although 3D computer vision is an increasingly important part of the computer vision research field, studies on 3D in deep learning have been limited by a lack of available tools and resources that can deal with the complexities involved in applying rich 3D data on neural networks. In a bid to simplify 3D deep learning and improve processing performance and efficiency, Facebook recently introduced an open-source framework for 3D computer vision. PyTorch3D is an efficient and reusable 3D computer vision library based on PyTorch that outperforms existing tools in many aspects of 3D modeling, rendering and other processing operations.

While working at Zillow Group, I became part of implementing Kong in the Trulia DevOps group. I had never heard of Kong, but when my manager presented the project to me, I immediately said yes. Since it was a huge undertaking from which I wanted to retain my learnings, I decided to create a diary of my experience.

iRODS is free open source software for data virtualization, data discovery, workflow automation, and secure collaboration used by research and business organizations around the globe. iRODS allows users to catalog all of their data and metadata into a unified namespace, and then automate their data management through an integrated rules engine.

Search giant Baidu has released an open-source tool to detect whether individuals in crowds are wearing face masks, as cities around the country impose rules requiring use of such protection in public spaces.

In response to the 2019 Novel Coronavirus (2019-nCoV) outbreak, China tech giant Baidu has open-sourced its RNA (Ribonucleic acid) prediction algorithm LinearFold. The tool can significantly accelerate the prediction time of a virus's RNA secondary structure, affording frontline researchers an opportunity to better understand the virus and develop targeting vaccines in a time of crisis. Baidu's AI scientists told Synced that they have already applied LinearFold to the 2019-nCoV, reducing prediction time from 55 minutes to 27 seconds. Knowledge of RNA secondary structures has become essential for researchers seeking to model RNA structures and gain insight into related functional mechanisms. However, current algorithms borrowed from computational linguistics and based on dynamic programming face a challenge: increases in RNA length cause their runtimes to scale in a cubic manner. This can seriously slow such algorithms when facing long RNA sequences and limit their use in genome-wide applications.

The partnership brings together best-in-class sUAS hardware with a secure, scalable, open source, operating system, Auterion OS. Auterion OS is currently employed on an ecosystem of sUAS from small multi-rotors to hybrid VTOL Group 2 air vehicles.

Security/Fear, Uncertainty, Doubt/Fear-mongering