GNOME and gestures, Part 2: HdyLeaflet
Submitted by Roy Schestowitz on Sunday 15th of September 2019 11:02:46 PM
Filed under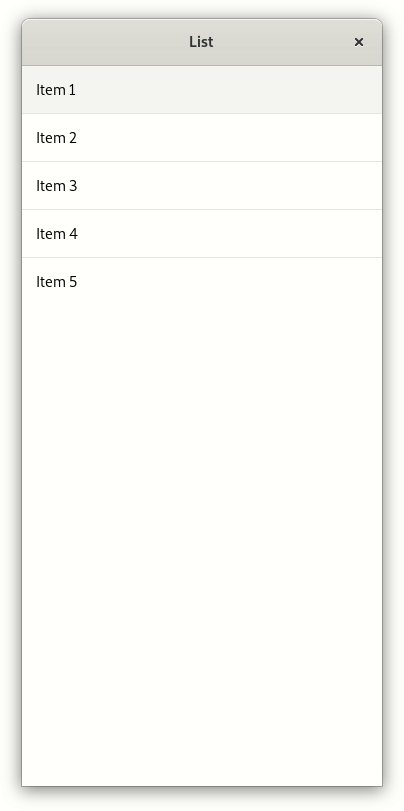 A folded HdyLeaflet, just like GtkStack, shows one of its children at any given moment, even during child transitions. The second visible child during transitions is just a screenshot. But which child is "real" and which is a screenshot? Turns out the real child is the destination one, meaning the widget switches its visible child when the animation starts. It isn't a problem if the animation is quick and time-based, but becomes very noticeable with a gesture. Additionally, it means that starting and cancelling a gesture switches the visible child two time.
One solution would be only switching the visible child at the end of the animation (or not at all if it was canceled). The problem is that it's a major behavior change: applications that listen to visible-child to know when to update the widgets, or sync the property between two leaflets will break.
Another solution would be to draw both children during transitions, but it still means that visible-child changes two times if the gesture was canceled. The problem here is similar: applications wouldn't expect the other child to still be drawn, but at least it's just a visual breakage. And it still means that starting and canceling the gesture would mean two visible-child changes.
The second solution may sound better, and yet the current WIP code uses the first one.
»
Printer-friendly version

1887 reads

PDF version
More in Tux Machines
Today in Techrights

Programming Leftovers

Events: CopyleftConf, Oggcamp and FOSDEM

A week before Software Freedom Conservancy had announced the CopyleftConf 2020. The conference is going to take place on 3 February 2020, Monday, in Brussels, Belgium. The first edition of CopyleftConf took place in February 2019. One can have a look at the videos here The organizers do plan it after Fosdem.

I'd heard that parking in Manchester was not only a nightmare and that you would have to sell your children into slavery to pay the parking fee for a few hours so with that in mind I decided to use the train. Now to get to Manchester by car from my house takes around an hour and a half so long as you stick within the speed limit. My train was set to eat two and a half hours from my lifes timeline, but I felt it was a small price to pay given I was only going to do one day of a two-day event. My journey to Oggcamp started at 6.55 am the train took me to Birmingham New Street, where I was due to change for the onward train to Manchester, on the way up to Birmingham, we stopped at Wolverhampton train station. My connection was on-time, and I made myself as comfortable as possible in my reserved seat. To my horror, a rather large gentleman poured himself into the seat next to me and mine if truth be told. We set off heading back the way we came and just for the fun of it and to wind me up a little our first stop was, yes, you guessed it, Wolverhampton train station. I could see the next two hours were going to be a bundle of joy as I tried to look at my phone while feeling that I was confined in an invisible straight jacket if only that were the extent of my problems. Mr Creosote decided that after consuming his breakfast which he had brought on board, it was now time to have a little sleep. "What's wrong with that?" I hear you ask. Mr Creosote promptly started to snore like farmer Giles's prized Gloucestershire Old Spot pig. Two hours later, frazzled we arrived in Manchester Mr Creosote had been kind enough to wake up in Macclesfield just enough time for my bladder to fill to bursting along with my fit to burst brain after all that snoring. Oh, and I forgot to mention the lad opposite who while sat underneath a sign saying "Please be considerate to those around you" played videos of South Park amongst other things at full volume on his phone. Never heard of headphones arsehole?

FOSDEM (Free & Open-source Software Developers' European Meeting) takes place every year in Brussels, Belgium on the first weekend of February.

Graphics: Vulkan and Mesa

There was a recent Khronos meet-up in Munich where Maik Klein of Embark Studios talked about their work on bringing a sub-set of the Rust programming language to Vulkan (SPIR-V) enabled GPUs. RLSL is the project being worked on by the Swedish game studio for opening up Rustlang use for GPUs to benefit from the language's same design advantages, provide a unified front-end, and being able to leverage the existing Rust ecosystem with the likes of Cargo/crates.

The Broadcom "V3D" Gallium3D driver that is most notably used by the new Raspberry Pi 4 boards now is effectively at OpenGL ES 3.1 support within the newest Mesa 19.3 code. We've known that Igalia has been ironing out OpenGL ES 3.1 for V3D after taking over the work from Eric Anholt who left Broadcom earlier this year to go work for Google. Merged this past week was the OpenGL compute shader bits as the main blocker that prevented the V3D open-source Gallium3D driver from exposing GLES 3.1. Following that was a memory violation fix and then explicitly exposing OpenGL ES Shading Language 3.1. That merge request does note that a few more fixes are still needed before V3D will officially pass all of the OpenGL ES 3.1 conformance tests, but at least Mesa 19.3's code is good enough along to enable the support.