A Comprehensive Intro to Darktable: A Free Lightroom Alternative
Submitted by Roy Schestowitz on Sunday 8th of September 2019 06:13:57 AM
Filed under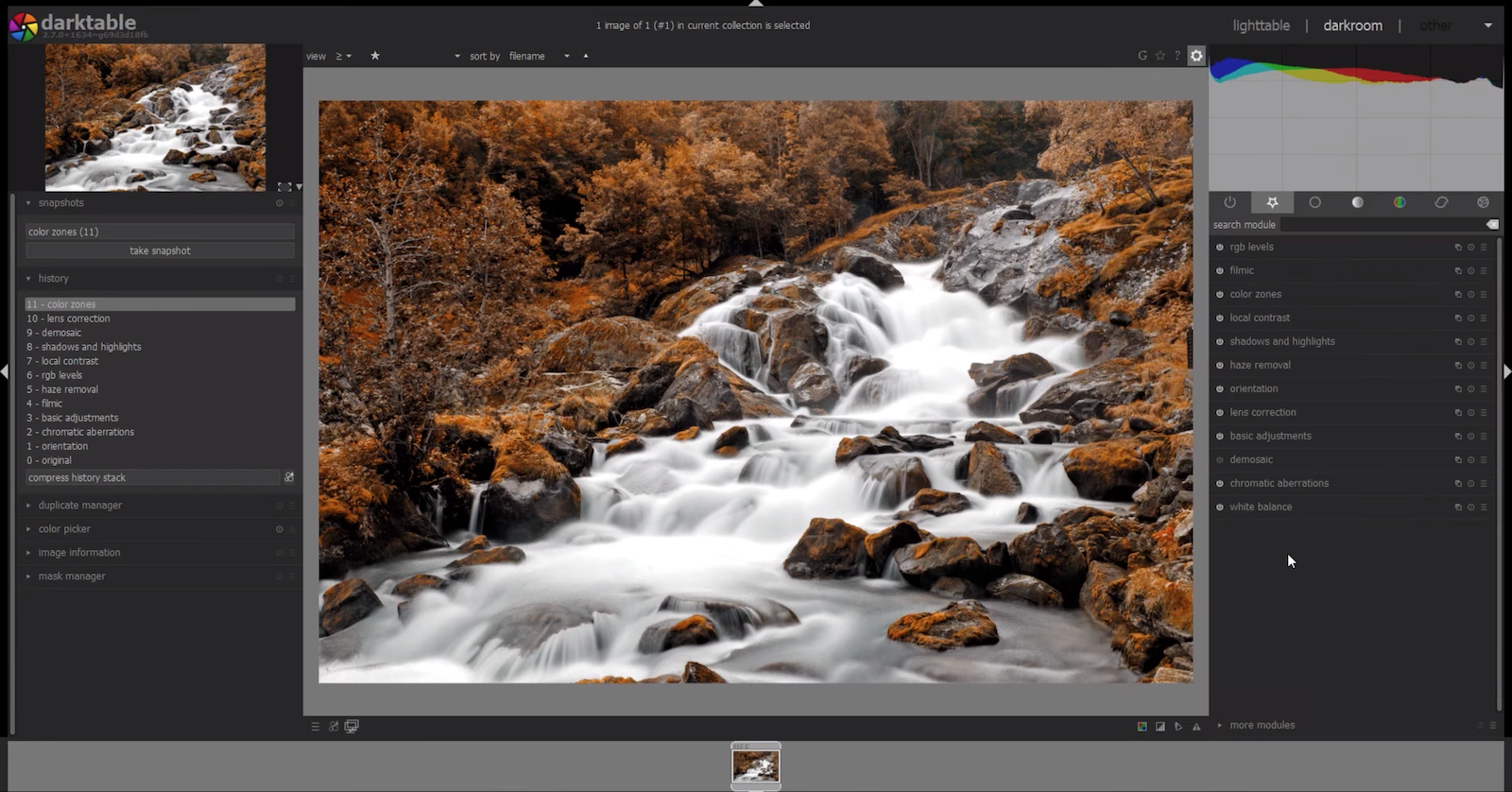 Anthony Morganti of IAmMrPhotographer.com recently teamed up with photographer and fellow YouTuber Rico Richardson to produce a comprehensive introduction to the popular (and free) Lightroom alternative Darktable. If you've been wanting to try this open source RAW editor but don't know where to start, this video is for you.
Richardson is an expert in Darktable who's created many a tutorial for the RAW processing software over on his own channel. This 10 minute tutorial is a bit more broad than all that: a beginner's guide that starts by showing you how to download the software off the Darktable website, moves into a detailed walkthrough of the user interface and available tools, and finishes off with a quick demonstration of Darktable's powerful masking features in action.
If you already have Darktable downloaded, skip to the 3:58 mark to jump right into the UI; and if you already understand the import settings in the Lighttable tab, you can skip straight to the tools overview and editing demonstration around 7:20.
»
Printer-friendly version

1341 reads

PDF version
More in Tux Machines
Moving Firefox to a faster 4-week release cycle

We typically ship a major Firefox browser (Desktop and Android) release every 6 to 8 weeks. Building and releasing a browser is complicated and involves many players. To optimize the process, and make it more reliable for all users, over the years we've developed a phased release strategy that includes 'pre-release' channels: Firefox Nightly, Beta, and Developer Edition. With this approach, we can test and stabilize new features before delivering them to the majority of Firefox users via general release. And today we're excited to announce that we're moving to a four-week release cycle! We're adjusting our cadence to increase our agility, and bring you new features more quickly. In recent quarters, we've had many requests to take features to market sooner. Feature teams are increasingly working in sprints that align better with shorter release cycles. Considering these factors, it is time we changed our release cadence. Starting Q1 2020, we plan to ship a major Firefox release every 4 weeks. Firefox ESR release cadence (Extended Support Release for the enterprise) will remain the same. In the years to come, we anticipate a major ESR release every 12 months with 3 months support overlap between new ESR and end-of-life of previous ESR. The next two major ESR releases will be ~June 2020 and ~June 2021.

[CentOS-announce] Release for CentOS Linux 7 (1908) on the x86_64 Architecture

Release for CentOS Linux 7 (1908) on the x86_64 Architecture We are pleased to announce the general availability of CentOS Linux 7 (1908) for the x86_64 architecture. Effectively immediately, this is the current release for CentOS Linux 7 and is tagged as 1908, derived from Red Hat Enterprise Linux 7.7 Source Code. As always, read through the Release Notes at : http://wiki.centos.org/Manuals/ReleaseNotes/CentOS7 - these notes contain important information about the release and details about some of the content inside the release from the CentOS QA team. These notes are updated constantly to include issues and incorporate feedback from the users. Also: CentOS 7.7 Released As The Last Stop Before CentOS 8.0

The 32-Bit Packages That Will Continue To Be Supported Through Ubuntu 20.04 LTS

Earlier this year Canonical announced they would be pulling 32-bit support from Ubuntu ahead of next year's 20.04 LTS. But following public backlash, they stepped back to provide 32-bit support for select packages. Today they announced the 199 32-bit packages that will continue to be supported through Ubuntu 20.04 LTS. Based upon popularity when looking at i386 packages that are not x86_64 (AMD64) packaged as well as feedback from their customers/partners, they have come up with a list of the 32-bit packages they will continue to support. Their list is 52 packages but with dependencies comes out to about 199 packages in the i386 realm they will continue to support. Also: Ubuntu Devs Detail Plan for 32-bit Support in Ubuntu 19.10

AMD EPYC 7302 / 7402 / 7502 / 7742 Linux Performance Benchmarks

Last month we provided launch-day benchmarks of the AMD EPYC 7502 and 7742 under Linux in both 1P and 2P configurations for these exciting "Rome" Zen 2 server processors. For your viewing pleasure today is a fresh look at not only the EPYC 7502 and 7742 processors under the latest Linux 5.3 kernel but we've also expanded it to looking at the EPYC 7302 and EPYC 7402 processors as well with those processors recently being sent over by AMD. Under Ubuntu 19.04 with Linux 5.3, these four different AMD EPYC 7002 series SKUs were benchmarked along with some of the older AMD Naples processors and Intel Xeon Gold/Platinum processors for a fresh look at the Linux server performance.