Orange Pi Zero2 is a Tiny Allwinner H6 SBC with HDMI 2.0, USB 3.0, Ethernet & WiFi
Submitted by Rianne Schestowitz on Tuesday 13th of August 2019 07:34:02 PM
Filed under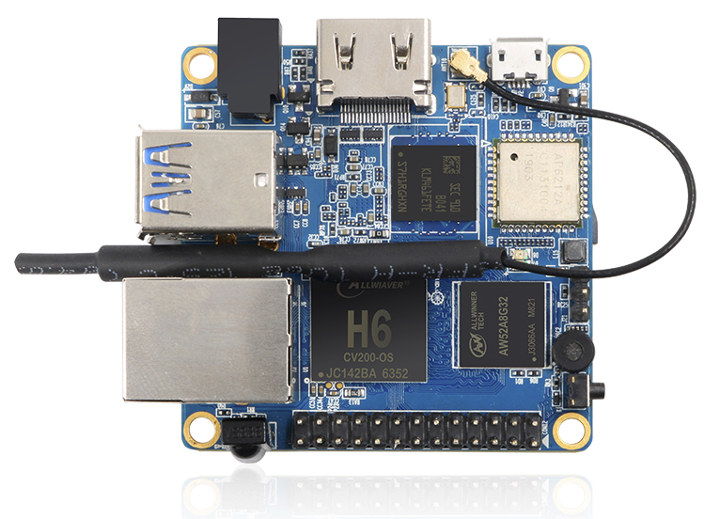 It's always frustrating to see boards with USB 3.0 and Fast Ethernet, since there's no benefit over USB 2.0 for networked storage. But this is usually to cut costs, and in this case the PCB's size may have been a problem to accommodate the extra transceiver required for Gigabit Ethernet.
Supported operating systems are said to be Android7.0, Ubuntu, and Debian, but this information is not always correct before launch. The good news is that Orange Pi 3 SBC, also powered by Allwinner H6 processor, is supported in Armbian, albeit only with WIP Debian 10 and Ubuntu 18.04 images, meaning they are suitable for testing, but not necessarily stable.
»
Printer-friendly version

2565 reads

PDF version
More in Tux Machines
Xfce, A Model GTK Based Desktop | Late Summer Blathering

n full disclosure, Plasma is my Desktop Environment of choice, it is very easy to customize and to make my own with very little effort. As of late, there isn't a whole lot of customizing I do, it's all pretty minor. A couple tweaks to the the visuals, make it dark, change some sound effects to make it more Star Trek The Next Generation, add a couple Plasmoids and set up KDE Connect. Then I am ready to go. Since KDE 3 and later Plasma, each release adds and refines existing features, all of which seems as though they are doing so in a sustainable fashion. New releases of Plasma are always met with excitement and anticipation. I can count on new features and refinements and an overall better experience. I didn't look anywhere else but then, Xfce wondered into my world and although slow to change has become that desktop too. Historically, Xfce has been [for me] just there, nothing particularly exciting. It has held the spot of a necessary, minimal viable desktop… but not anymore.

Enjoy C&C Red Alert on Linux

I am extremely happy. I remember trying to play Red Alert about 10 years ago, and you had to patch files, and there was this and that, but now, it's smooth, seamless. This is true for many other games of this type, and it's easier to get them running on the latest operating systems than it was a few years after their demise. This is because people realized how valuable and dear they were. Everything works well in this setup, but if you're not happy for some reason, you have cross-platform support, and there's also the fully open-source OpenRA clone. This one, alongside my DOSBox classics, many of which I still have the original save games for, plus OpenTTD, is the mainstay of excellence, from an era when computer gaming was pure and hard and utterly unforgiving. And it shows. I hope you find this little guide valuable. Next on the menu, Yuri's Revenge. See you soon.

today's howtos

Debian: Introducing Noir, miniDebConf19 Vaumarcus and New FAI.me Feature

Noir is a drop-in replacement for Black (the uncompromising code formatter), with the default line length set to PEP-8's preferred 79 characters. If you want to use it, just replace black with noir in your requirements.txt and/or setup.py and you're good to go. Black is a Python code formatter that reformats your code to make it more PEP-8 compliant. It implements a subset of PEP-8, most notably it deliberately ignores PEP-8's suggestion for a line length of 79 characters and defaults to a length of 88. I find the decision and the reasoning behind that somewhat arbitrary. PEP-8 is a good standard and there's a lot of value in having a style guide that is generally accepted and has a lot of tooling to support it. When people ask to change Black's default line length to 79, the issue is usually closed with a reference to the reasoning in the README. But Black's developers are at least aware of this controversial decision, as Black's only option that allows to configure the (otherwise uncompromising) code formatter, is in fact the line length. Apart from that, Black is a good formatter that's gaining more and more popularity. And, of course, the developers have every right to follow their own taste. However, since Black is licensed under the terms of the MIT license, I tried to see what needs to be done in order to fix the line length issue.

The Vaumarcus miniDebConf19 is happening! Come see the fantastic view from the shores of Lake Neuchâtel, in Switzerland! We're going to have two-and-a-half days of presentations and hacking in this marvelous venue and anybody interested in Debian development is welcome.

FAI.me, the build service for installation and cloud images has a new feature. When building an installation images, you can enable automatic reboot or shutdown at the end of the installation in the advanced options. This was implemented due to request by users, that are using the service for their VM instances or computers without any keyboard connected.