deepin 15.11 - Better Never Stops
Submitted by Roy Schestowitz on Friday 19th of July 2019 03:35:52 PM
Filed under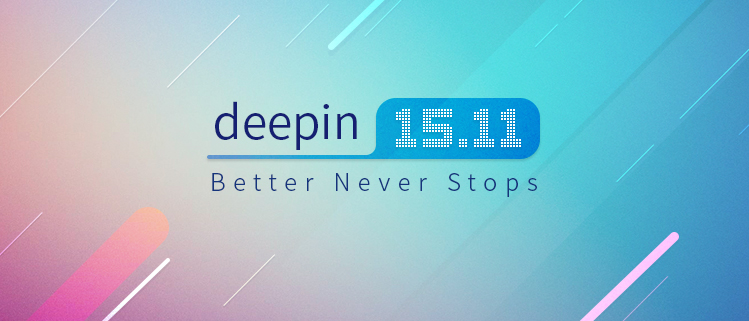 deepin is a Linux distribution devoted to providing a beautiful, easy to use, safe and reliable system for global users.
deepin is an open source GNU/Linux operating system, based on Linux kernel and mainly on desktop applications, supporting laptops, desktops, and all-in-ones. It preinstalls Deepin Desktop Environment (DDE) and nearly 30 deepin native applications, as well as several applications from the open source community to meet users' daily learning and work needs. In addition, about a thousand applications are offered in Deepin Store to meet users' various requirements.
Welcome to deepin 15.11 release. Compared with deepin 15.10, deepin 15.11 comes with new features - Cloud Sync in Control Center and disc burning function in Deepin File Manager. Besides, kwin window manager was fixed and optimized for better stability and compatibility, and a number of bugs were fixed. In deepin 15.11, you will enjoy smooth and better user experiences!
»
Printer-friendly version

3074 reads

PDF version
More in Tux Machines
Late Coverage of Confidential Computing Consortium

The software maker joined Google Cloud, Intel, IBM, Alibaba, Arm, Baidu, Red Hat, Swisscom, and Tencent to establish the Confidential Computing Consortium, a group committed to providing better private data protection, promoting the use of confidential computing, and advancing open source standards among members of the technology community.

At the Open Source Summit in San Diego, California on August 21, the Linux Foundation announced the formation of the Confidential Computing Consortium. Confidential computing is an approach using encrypted data that enables organizations to share and collaborate, while still maintaining privacy. Among the initial backers of the effort are Alibaba, Arm, Baidu, Google Cloud, IBM, Intel, Microsoft, Red Hat, Swisscom and Tencent. "The context of confidential computing is that we can actually use the data encrypted while programs are working on it," John Gossman, distinguished engineer at Microsoft, said during a keynote presentation announcing the new effort. Initially there are three projects that are part of the Confidential Computing Consortium, with an expectation that more will be added over time. Microsoft has contributed its Open Enclave SDK, Red Hat is contributing the Enarx project for Trusted Execution Environments and Intel is contributing its Software Guard Extensions (SGX) software development kit. Lorie Wigle, general manager, platform security product management at Intel, explained that Intel has had a capability built into some of its processors called software guard which essentially provides a hardware-based capability for protecting an area of memory.

Graphics: Mesa Radeon Vulkan Driver and SPIR-V Support For OpenGL 4.6

Mesa's RADV Radeon Vulkan driver just saw a big performance optimization land to benefit APUs like Raven Ridge and Picasso, simply systems with no dedicated video memory. The change by Feral's Alex Smith puts the uncached GTT type at a higher index than the visible vRAM type for these configurations without dedicated vRAM, namely APUs.

This week saw OpenGL 4.6 support finally merged for Intel's i965 Mesa driver and will be part of the upcoming Mesa 19.2 release. Not landed yet but coming soon is the newer Intel "Iris" Gallium3D driver also seeing OpenGL 4.6 support. Iris Gallium3D has been at OpenGL 4.5 support and is quite near as well with its OpenGL 4.6 support thanks to the shared NIR support and more with the rest of the Intel open-source graphics stack. Though it's looking less likely that OpenGL 4.6 support would be back-ported to Mesa 19.2 for Iris, but we'll see.

The GPD MicroPC in 3 Minutes [Video Review]

In it I tackle the GPD MicroPC with Ubuntu MATE 19.10. I touch on the same points made in my full text review, but with the added bonus of moving images to illustrate my points, rather than words. Also: WiringPi - Deprecated

today's howtos