Kali Linux arrives on Raspberry Pi 4
Submitted by Roy Schestowitz on Tuesday 9th of July 2019 04:38:55 AM
Filed under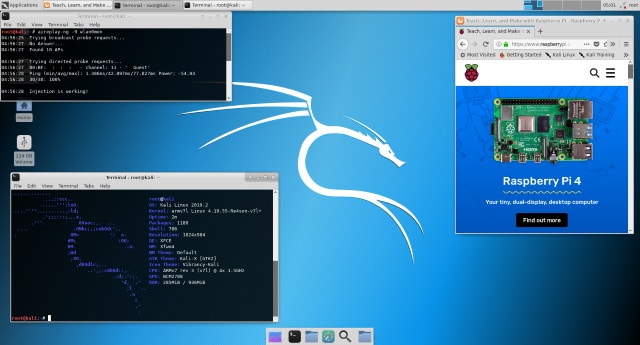 The Kali Linux team says that in addition to the impressive hardware of the new model, the Pi 4 now also benefits from Kali Linux support complete with on-board Wi-Fi monitor mode. At the moment, Kali Linux for Raspberry Pi 4 is only available in a 32-bit variant, but a 64-bit version is promised "in the near future". Offensive Security says that because of the popularity of Kali on previous versions of Raspberry Pi, it moved quickly to support the latest version.
Getting up and running is no different to installing Kali Linux on previous versions of Raspberry Pi, and you'll find full instructions here.
If you're happy to stick with the 32-bit version of Kali Linux for Raspberry Pi 4, you can grab it from the Kali ARM download page. If not, you'll just have to wait a bit longer for 64-bit support.
»
Printer-friendly version

6564 reads

PDF version
More in Tux Machines
Where's the Yelp for open-source tools?

It would be great if there were a genuinely useful rating system that would help people discover excellent but less-visible open-source projects. But an easy way to work out which of the tens of thousands of projects are the vital, important ones – a software Yelp, if you will – doesn't exist. It may never come to be. Hope springs eternal. Brian Profitt, Red Hat's Open Source Program Office (OSPO) manager, is working with others on a new project to make it easy to evaluate open-source projects: Project CHAOSS. This Linux Foundation project is devoted to creating analytics and metrics that help define open-source community health.

DragonFly 5.8.2 released

I tagged and built 5.8.2 today, and it should be appearing on a mirror near you, momentarily.

Deepin Desktop Review: A Stylish Distro and Desktop Environment

In this Linux Desktop Environment review, we have a slightly controversial choice. Deepin, both as a distribution and as a Desktop Environment, is one that not everybody feels comfortable using and trusting. However, we'll be setting that aside, dispelling some myths, and looking at the beautiful Deepin Desktop Environment (DDE), its user experience, some notable features, and giving some recommendations on where to experience it and who should use it.

The 10 Best Raspberry Pi Emulators Available in 2020

Raspberry Pi is a mini-computer as well as a marker board that comes with all the hardware built-in and is designed to make coding easier. You will find everything necessary, including RAM, CPU, and GPU on the boards. However, no matter how perfect Raspberry Pi looks, it isn't capable of doing a lot of things, including running x86 apps. As a result, we need the Raspberry pi emulators to help us with the problems. One of the most amazing uses of these emulators is to play any of your favorite classic retro games using them on your Pi board.