Kali Linux arrives on Raspberry Pi 4
Submitted by Roy Schestowitz on Tuesday 9th of July 2019 04:38:55 AM
Filed under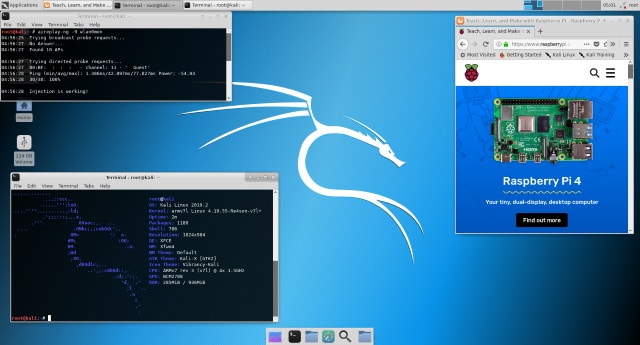 The Kali Linux team says that in addition to the impressive hardware of the new model, the Pi 4 now also benefits from Kali Linux support complete with on-board Wi-Fi monitor mode. At the moment, Kali Linux for Raspberry Pi 4 is only available in a 32-bit variant, but a 64-bit version is promised "in the near future". Offensive Security says that because of the popularity of Kali on previous versions of Raspberry Pi, it moved quickly to support the latest version.
Getting up and running is no different to installing Kali Linux on previous versions of Raspberry Pi, and you'll find full instructions here.
If you're happy to stick with the 32-bit version of Kali Linux for Raspberry Pi 4, you can grab it from the Kali ARM download page. If not, you'll just have to wait a bit longer for 64-bit support.
»
Printer-friendly version

4455 reads

PDF version
More in Tux Machines
OSS and Openwashing Leftovers

Linux 5.4 Adds Support For The FlySky FS-iA6B - A Receiver Popular With DIY Drones

The input driver updates for the Linux 5.4 kernel include the addition of an interesting, budget-friendly RC receiver that can be used for home-built drones and other use-cases while now the driver allows the receiver when paired with a supported RC controller to serve as a traditional Linux joystick input. The input updates were sent in earlier this week and among the changes are allowing drivers to support more precise timestamps for better velocity tracking, improvements to the BU21013 touchpad driver, and other changes as outlined in the pull request.

Android Leftovers

GNOME: Wayland With MATE, NetworkManager and Sébastien Wilmet

Canonical's Mir developers since re-shifting focus to serving as a Wayland compositor have been working with the likes of the GNOME2-forked MATE desktop environment to implement Wayland support using Mir. For helping those interested in porting MATE applications from X11 to Wayland, one of the Mir developers has now issued a porting guide.

NetworkManager has shifted its threshold for a weak WiFi signal for when to begin searching for other WLAN networks. Up to now NetworkManager used a -80dBm threshold for when to roam for other network signals while now that has changed to find hopefully stronger network signals sooner. 

And to avoid stress/burnout, I try to no longer work the evenings and weekends, so it drastically limits my time that I'll devote to GNOME.