Escuelas Linux Is Much More Than an Enlightened Linux Retread
Submitted by Rianne Schestowitz on Friday 28th of June 2019 04:57:12 PM
Filed under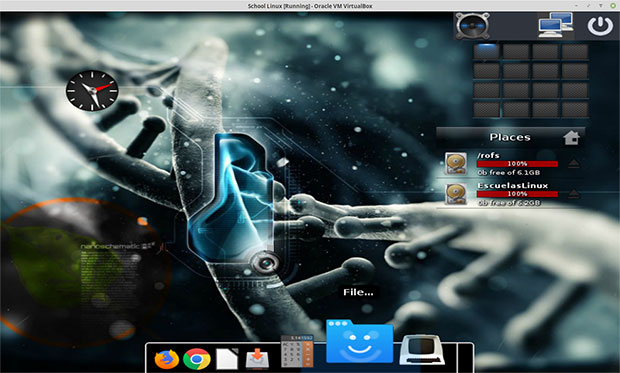 Escuelas Linux is a surprisingly good all-purpose distro despite its emphasis on education-specific software. However, its universal appeal is critically hampered by its Spanish- and English-only editions. You can always uninstall educational packages not to your liking or need.
Expect to take some time getting familiar with the Moksha desktop. That is my primary concern for younger students and others not familiar with any computer system.
I spent many years as an educator pushing computer technology in the classroom. Students' computing skills (with the exception of gaming) were often greatly lacking.
Moksha is not difficult to master. Yet I cringe at the thought of students and other users getting up to speed on the Moksha UI for hands-on productivity in the classroom and at home. Many of the specialty features built into Escuelas Linux will help teachers and system admins reduce the UI distractions.
»
Printer-friendly version

2005 reads

PDF version
More in Tux Machines
Red Hat: Application Migration, Departure, OpenShift Commons Gathering and More

Antoine Beaupré: a quick review of file watchers

File watchers. I always forget about those and never use then, but I constantly feel like I need them. So I made this list to stop searching everywhere for those things which are surprisingly hard to find in a search engine.

Solaris/UNIX: New Solaris Update/Release, Mystery of Unix History

Today we are releasing SRU 15, the November 2019 SRU, for Oracle Solaris 11.4. It is available via 'pkg update' from the support repository or by downloading the SRU from My Oracle Support Doc ID 2433412.1.

While there is no sign of Solaris 11.5 or Solaris.Next (last year was a road-map pointing to Solaris 11.Next in H2'19 or H1'20 that has since been removed), Oracle does continue putting out more updates to the Solaris 11.4 series. Oracle Solaris 11.4 SRU 15 was released on Tuesday as the latest monthly update to the Solaris stable series. With Solaris 11.4 SRU 15 are more Python 3 modules being added along with other Python updates, updating the GCC compiler against v9.2, updates to other toolchain bits like CMake, and a wide range of security updates.

The two most popular historic editors on Unix, vi and emacs, both make heavy use of these features (Emacs using Esc when Alt or Meta is unavailable). Some of the later entries in the DEC terminal line, especially the vt510, supported key remapping or alternative keyboards, which can address the Esc issue, but not entirely. According to the EmacsOnTerminal page and other research, at least the vt100 through the vt420 lacked Esc by default. Ctrl-3 and Ctrl-[ could send the character. However, this is downright terrible for both vi and Emacs (as this is the only way to trigger meta commands in Emacs). What's more, it seems almost none of these old serial terminal support hardware flow control, and flow control is an absolute necessity on many. That implies XON/XOFF, which use Ctrl-S and Ctrl-Q — both of which are commonly used in Emacs.

Mesa 19.2.5

Hi list,

I'd like to announce mesa 19.2.5. This is a return to our regularly scheduled
release cadence, featuring a reasonable number of fixes. In general things are
slowing down on the 19.2 branch, and things are starting to look pretty nice.

There's a little bit over everything in here, with anv and radeonsi standing out
as the two biggest components getting changes, but core mesa, core gallium,
llvmpipe, nir, egl, i965, tgsi, st/mesa, spirv, and the Intel compiler also
fixes in this release.

Dylan


Shortlog
========

Ben Crocker (1):
      llvmpipe: use ppc64le/ppc64 Large code model for JIT-compiled shaders

Brian Paul (1):
      Call shmget() with permission 0600 instead of 0777

Caio Marcelo de Oliveira Filho (1):
      spirv: Don't leak GS initialization to other stages

Danylo Piliaiev (1):
      i965: Unify CC_STATE and BLEND_STATE atoms on Haswell as a workaround

Dylan Baker (4):
      docs: Add SHA256 sum for for 19.2.4
      cherry-ignore: Update for 19.2.4 cycle
      docs: Add relnotes for 19.2.5
      VERSION: bump for 19.2.5

Eric Engestrom (1):
      egl: fix _EGL_NATIVE_PLATFORM fallback

Ian Romanick (2):
      nir/algebraic: Add the ability to mark a replacement as exact
      nir/algebraic: Mark other comparison exact when removing a == a

Illia Iorin (1):
      mesa/main: Ignore filter state for MS texture completeness

Jason Ekstrand (1):
      anv: Stop bounds-checking pushed UBOs

Lepton Wu (1):
      gallium: dri2: Use index as plane number.

Lionel Landwerlin (3):
      anv: invalidate file descriptor of semaphore sync fd at vkQueueSubmit
      anv: remove list items on batch fini
      anv/wsi: signal the semaphore in the acquireNextImage

Marek Olšák (3):
      st/mesa: fix Sanctuary and Tropics by disabling ARB_gpu_shader5 for them
      tgsi_to_nir: fix masked out image loads
      tgsi_to_nir: handle PIPE_FORMAT_NONE in image opcodes

Paulo Zanoni (1):
      intel/compiler: fix nir_op_{i,u}*32 on ICL

Pierre-Eric Pelloux-Prayer (3):
      radeonsi: disable sdma for gfx10
      radeonsi: tell the shader disk cache what IR is used
      radeonsi: fix shader disk cache key


git tag: mesa-19.2.5



Also: Mesa 19.2.5 Released With Intel Vulkan + RadeonSI Driver Fixes