Rock Pi 4 B Review: A Swiss Army Knife Of Single Board Computers
Submitted by Roy Schestowitz on Friday 1st of February 2019 07:09:32 PM
Filed under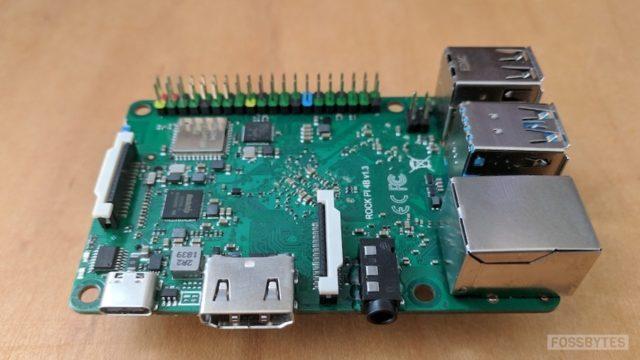 The Rock Pi 4 B, while having no official affiliation with the Raspberry Pi, is a single board computer whose intention it is to provide all the features Raspberry Pi fans would like in the now dated Rasberry Pi 3 B+ model, and are hoping to see in the 4 B+ model. The Rock Pi 4 B has a lot to offer, but does it really check all the boxes?
The Rock Pi 4 B is a powerhouse in terms of SBCs, especially when compared to the Raspberry Pi. The board comes in three variants, 1GB, 2GB, and 4GB of LPDDR4 RAM running at 3,200 MB/s, all other specifications are the same across the variants. These will run you $49, $59, and $75 and should not be confused with the model A parts that do not contain the 802.11ac wireless or the Bluetooth 5.0 (but do contain wireless and Bluetooth).
»
Printer-friendly version

5048 reads

PDF version
More in Tux Machines
Plasma 5.16.90 (Plasma 5.17 Beta) Available for Testing

Are you using Kubuntu 19.04 Disco Dingo, our current Stable release? Or are you already running our development builds of the upcoming 19.10 Eoan Ermine? We currently have Plasma 5.16.90 (Plasma 5.17 Beta) available in our Beta PPA for Kubuntu 19.04 and 19.10. This is a Beta Plasma release, so testers should be aware that bugs and issues may exist.

Raspberry Pi 4 getting hot? A closer look

I hope that will all arrive in time for me to try it out over the weekend, so I can pass along some more information about temperatures, and about what pieces fit together in which cases, if any. Finally, the Raspberry Pi Foundation says that they are working on several software and firmware changes that should help bring the temperature of the Pi 4 down. Hopefully those will be released soon - but even if they are, I don't expect that they will improve the situation by more than 5 degrees or so, and given how hot the Pi 4 runs, that is not enough to eliminate the need for the kind of hardware measures I am looking at now.

Top Open Source Video Players for Linux

You can watch Hulu, Prime Video and/or Netflix on Linux. You can also download videos from YouTube and watch them later or if you are in a country where you cannot get Netflix and other streaming services, you may have to rely on torrent services like Popcorn Time in Linux. Watching movies/TV series or other video contents on computers is not an 'ancient tradition' yet. Usually, you go with the default video player that comes baked in with your Linux distribution (that could be anything). You won't have an issue utilizing the default player – however, if you specifically want more open-source video player choices (or alternatives to the default one), you should keep reading.

Manjaro 18.1: Goes Arch One Better

Manjaro Linux's in-house system tools, easy installation application and better range of software packages make it a better Arch-based distro than Arch Linux itself. Manjaro offers much more than a pure Arch Linux environment. Regardless of which desktop style you select, the welcome screen introduces Manjaro tools and get-acquainted details such as documentation, support tips, and links to the project site. You can get a full experience in using the live session ISOs without making any changes to the computer's hard drive. That is another advantage to running Manjaro Linux over a true Arch distro. Arch distros usually do not provide live session environments. Most that do lack any automatic installation launcher from within the live session.