Rock Pi 4 B Review: A Swiss Army Knife Of Single Board Computers
Submitted by Roy Schestowitz on Friday 1st of February 2019 07:09:32 PM
Filed under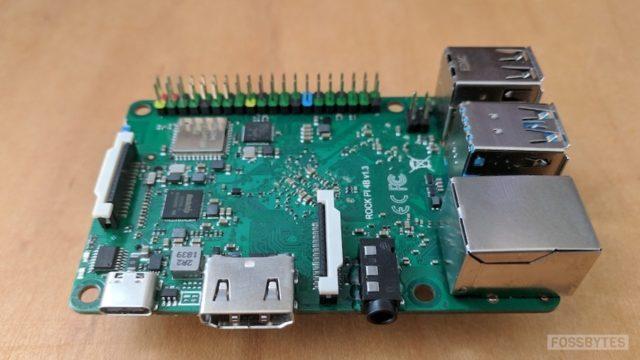 The Rock Pi 4 B, while having no official affiliation with the Raspberry Pi, is a single board computer whose intention it is to provide all the features Raspberry Pi fans would like in the now dated Rasberry Pi 3 B+ model, and are hoping to see in the 4 B+ model. The Rock Pi 4 B has a lot to offer, but does it really check all the boxes?
The Rock Pi 4 B is a powerhouse in terms of SBCs, especially when compared to the Raspberry Pi. The board comes in three variants, 1GB, 2GB, and 4GB of LPDDR4 RAM running at 3,200 MB/s, all other specifications are the same across the variants. These will run you $49, $59, and $75 and should not be confused with the model A parts that do not contain the 802.11ac wireless or the Bluetooth 5.0 (but do contain wireless and Bluetooth).
»
Printer-friendly version

2686 reads

PDF version
More in Tux Machines
Android Leftovers

ExTiX 19.4 "The Ultimate Linux System" is Based on Deepin 15.9.3 and Linux 5.0

The biggest news about the ExTiX Deepin 19.4 release is that it's the first GNU/Linux distribution to be based on the upcoming Deepin Linux 15.9.3 release, which is currently in beta stages of development and has not yet been officially released by Deepin Technology. Additionally, ExTiX Deepin 19.4 comes with the Linux 5.0.8 kernel for the best possible hardware support, making ExTiX worthy for its "The Ultimate Linux System" nickname. Latest Refracta Snapshot is included as well by default for those who want to make their own ExTiX Deepin 19.4 live systems, along with Spotify and Skype apps.

FreeBSD ZFS vs. ZoL Performance, Ubuntu ZFS On Linux Reference

With iX Systems having released new images of FreeBSD reworked with their ZFS On Linux code that is in development to ultimately replace their existing FreeBSD ZFS support derived from the code originally found in the Illumos source tree, here are some fresh benchmarks looking at the FreeBSD 12 performance of ZFS vs. ZoL vs. UFS and compared to Ubuntu Linux on the same system with EXT4 and ZFS. Using an Intel Xeon E3-1275 v6 with ASUS P10S-M WS motherboard, 2 x 8GB DDR4-2400 ECC UDIMMs, and Samsung 970 EVO Plus 500GB NVMe solid-state drive was used for all of this round of testing. Just a single modern NVMe SSD was used for this round of ZFS testing while as the FreeBSD ZoL code matures I'll test on multiple systems using a more diverse range of storage devices.

Why Linux stands out amongst other OSes

Up until recently, Elementary OS was my platform of choice. It's an elegant, simple, and user-friendly solution for the desktop. One thing that the Elementary developers do that I believe is fairly wise is to not allow upgrades from one major release to another. In other words, if you use Elementary OS Loki, you can't upgrade to Juno. To get the benefits of Juno, you must do a full-blown re-install of the OS. Why is this route wise? My latest adventures in Linux will help explain. A few months ago, I purchased a System76 Thelio. It's a beast of a desktop, while at the same a masterful work of art. Preinstalled on that desktop machine was System76's own Pop!_OS. Based on Ubuntu, it seemed like a great way for me to dive back into the GNOME desktop. So I did. It took no time to get accustomed to the new workflow with GNOME. Once my fingers understood the new keyboard shortcuts, I was good to go.