GameShell Review: Hackable Game Boy Clone That Has No Limits
Submitted by Roy Schestowitz on Saturday 26th of January 2019 05:41:40 PM
Filed under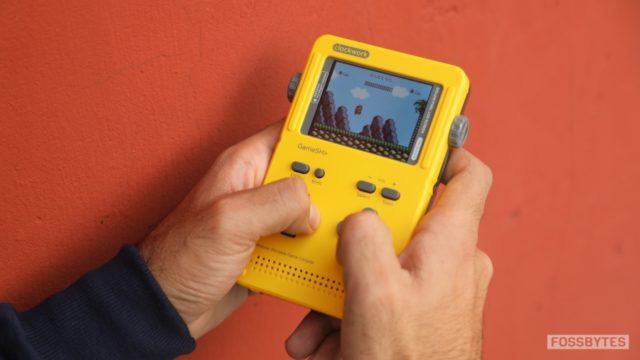 Before I start, you should know that GameBoy is only one part of the story. With the help of Clockwork OS, one can install hundreds of emulators (aka "Cores") on GameShell. So if you were into Tekken 3 of PlayStation One, or you liked playing FIFA on your PlayStation (PSP)portable, then Gameshell won't disappoint you at all.
[...]
It's actually pretty simple — Gameshell is powered by Clockwork OS, which by the way, is a GNU/Linux-based embedded operating system. So, GameShell, naturally, comes ready to be hacked or mess around with.
»
Printer-friendly version

2004 reads

PDF version
More in Tux Machines
Looks Like Fedora 34 Workstation Will Ship with the GNOME 40 Desktop by Default

The Fedora development team decided not to break protocol and continue following the latest upstream GNOME releases for its next major release, Fedora 34. As you probably know already, Canonical recently revealed that its upcoming Ubuntu 21.04 (Hirsute Hippo) distro release won't ship with GNOME 40 due its major UI redesign. This won't happen with Fedora Linux, as it looks like the upcoming Fedora Linux 34 release will offer a pure GNOME 40 desktop experience on its flagship 'Workstation' edition. As GNOME 40 is built using the latest GTK 4 toolkit, that will be included as well in Fedora 34, due for release in late April 2021.

Android Leftovers

Latest on CentOS

Brian Exelbierd, responsible for Red Hat liaison with the CentOS project and a board member of that project, has told The Register that CentOS Linux is ending because Red Hat simply refused to invest in it. Early last month Red Hat shocked users of CentOS, a free community build of the same sources that make up the commercial Red Hat Enterprise Linux (RHEL), by revealing that CentOS Linux would cease and be replaced by CentOS Stream, a build of what is likely to be in the next RHEL update. What happened, and how is it possible that the supposedly independent CentOS project conformed to a change of direction that was not driven by the wishes of its own members? "Red Hat participates in lots of open-source projects and communities. Red Hat sponsors some open-source projects and communities," said Exelbierd. "CentOS is a sponsored project, we are the funding agent and we happen to also be a heavy contributor. We have learned that open-source communities do well with independence. We let those governing bodies govern."

It is one of two CentOS clones being built to fill the void left by Red Hat's unpopular decision to end CentOS's role as a downstream version of RHEL.

CloudLinux announces the expansion of its affordable Extended Lifecycle Support (ELS) services for Linux distributions, by providing its own updates and security patches for several years after expiration of the products' end-of-life date. For example, support for CentOS 6 from Red Hat expired November 30 last year.

Linux at Home: Circuit Design with Linux

We are told by our governments that in the current crisis the single most important action we can take is to stay at home and minimise the amount of contact with others. The new variant of Covid-19 is much more transmissible than the virus's previous version. The advice to stay safe is therefore even more important. It's only with everyone abiding by the law can we protect our health services and save lives. In this series, we look at a range of home activities where Linux can play its part, making the most of our time at home, keeping active and engaged. The change of lifestyle enforced by Covid-19 is an opportunity to expand our horizons, and spend more time on activities we have neglected in the past. Now is a great time to take up a new hobby. How about learning to design circuits? The key to perfection is practice. Take any random circuit from the internet and start your designing. With this software, you'll be able to practice, practice, practice.