Raptor Talos II POWER9 Benchmarks Against AMD Threadripper & Intel Core i9
Submitted by Rianne Schestowitz on Friday 9th of November 2018 04:52:48 AM
Filed under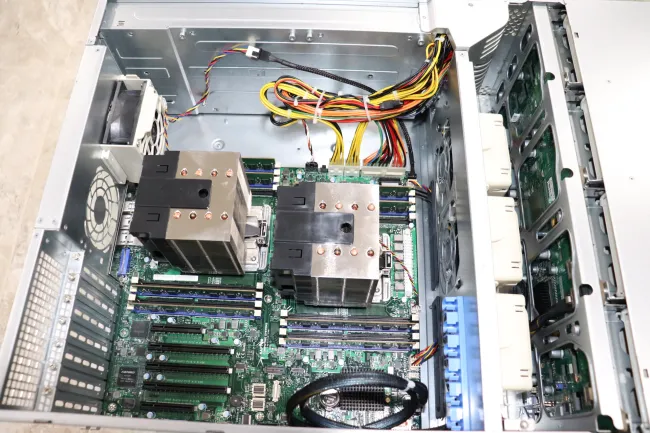 For those curious about the performance of IBM's POWER9 processors against the likes of today's AMD Threadripper and Intel Core i9 HEDT processors, here are some interesting benchmarks as we begin looking closer at the POWER9 performance on the fully open-source Raptor Talos II Secure Workstation. This open-source, secure system arrived for Linux testing with dual 22-core POWER9 CPUs to yield 176 total threads of power.
As mentioned a few days ago in the aforelinked article, Raptor Computing Systems recent sent over a Talos II system for benchmarking to deliver more frequent benchmarks from this high-end workstation/server that's fully open-source down to the motherboard firmware and BMC stack. We previously have carried out some remote benchmarks of the Talos II, but now having it in our labs allows us to more frequently conduct tests as well as swapping out the hardware, matching other test systems, and also other tests like performance-per-Watt comparisons that were not possible with the remote testing.
»
Printer-friendly version

1318 reads

PDF version
More in Tux Machines
Getting started with software-defined networking

Software-defined networking (SDN) is a dynamic, manageable, cost-effective, and adaptable networking technology suitable for the high-bandwidth, dynamic nature of today's applications. By using an SDN architecture, an IT operations team can control network traffic in complex networking topologies through a centralized panel, rather than handling each network device, such as routers and switches, manually. Rapidly growing mobile content, server virtualization, and hybrid cloud services are some of the trends leading the networking industry to reconsider network architectures. The traditional networking architecture is built mainly on multiple layers of network switches in a hierarchical topology. But it's harder to address rapidly increasing application workloads from multiple and hybrid infrastructures (like the cloud) in a hierarchical architecture.

today's howtos

Sailfish 3 Day Celebration

The third generation of Sailfish OS is here, and we call it Sailfish 3! After months of hard work to get Sailfish 3 out in the wild, we have now released this rather big update to Sailfish powered devices. With that said, we surely wanted to celebrate the occasion and arranged two events: one in Helsinki, and another one in Berlin. Thanks to all of you who attended! Below a short description what happened, and what the mood was like. Also: Smaller Raspberry Pi 3 Model A+ Announced with 5GHz Wi-Fi and 1.4GHz CPU for $25

8 Awesome Color Picking Tools for Linux

A color picker is a program that can be used to scan color codes. Some have more features than others like being able to pick colors from even PDF documents. Here is a list of the best color picking tools to use on your Linux computer.