Raptor Talos II POWER9 Benchmarks Against AMD Threadripper & Intel Core i9
Submitted by Rianne Schestowitz on Friday 9th of November 2018 04:52:48 AM
Filed under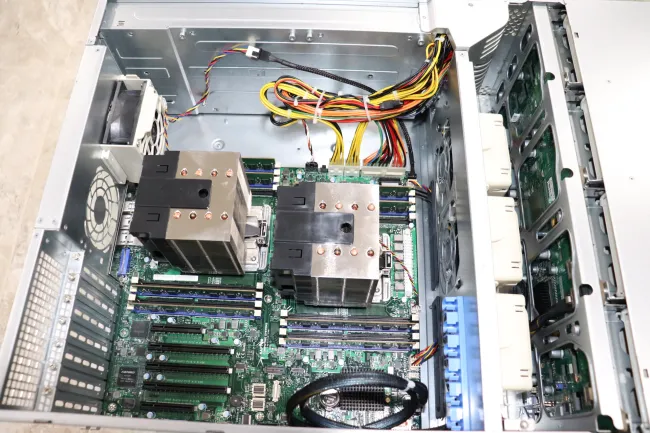 For those curious about the performance of IBM's POWER9 processors against the likes of today's AMD Threadripper and Intel Core i9 HEDT processors, here are some interesting benchmarks as we begin looking closer at the POWER9 performance on the fully open-source Raptor Talos II Secure Workstation. This open-source, secure system arrived for Linux testing with dual 22-core POWER9 CPUs to yield 176 total threads of power.
As mentioned a few days ago in the aforelinked article, Raptor Computing Systems recent sent over a Talos II system for benchmarking to deliver more frequent benchmarks from this high-end workstation/server that's fully open-source down to the motherboard firmware and BMC stack. We previously have carried out some remote benchmarks of the Talos II, but now having it in our labs allows us to more frequently conduct tests as well as swapping out the hardware, matching other test systems, and also other tests like performance-per-Watt comparisons that were not possible with the remote testing.
»
Printer-friendly version

1936 reads

PDF version
More in Tux Machines
Android Leftovers

Parrot 4.5 Ethical Hacking OS Released with Metasploit 5.0, Drops 32-Bit Support

Parrot 4.5 is now available, powered by the long-term supported Linux 4.19 kernel series, preparing the project for the upcoming Parrot 5.0 LTS release. For future releases, Parrot Security plans to a support two kernels, stable kernel and a testing kernel. Parrot 4.5 also comes with the latest Metasploit 5.0 penetration testing framework, which introduces major features like new evasion modules, a new search engine, a json-rpc daemon, integrated web services, and support for writting shellcode in C. Also: Parrot 4.5 release notes

GPU acceleration for Linux apps on Chrome OS enabled

It's happening, and it's happening early. GPU acceleration for Linux apps on Chrome OS has arrived. According to a recent report, Chromebooks with 'Eve' and 'Nami' baseboard should now, or very soon, be able to try GPU hardware acceleration. GPU acceleration allows applications to fully leverage the GPU of a device to better run graphic-intensive tasks, like gaming. The feature will make for a much smoother Linux apps experience for Chromebook users.

Out-Of-The-Box 10GbE Network Benchmarks On Nine Linux Distributions Plus FreeBSD 12

Last week I started running some fresh 10GbE Linux networking performance benchmarks across a few different Linux distributions. That testing has now been extended to cover nine Linux distributions plus FreeBSD 12.0 to compare the out-of-the-box networking performance. Tested this round alongside FreeBSD 12.0 was Antergos 19.1, CentOS 7, Clear Linux, Debian 9.6, Fedora Server 29, openSUSE Leap 15.0, openSUSE Tumbleweed, Ubuntu 18.04.1 LTS, and Ubuntu 18.10. All of the tests were done with a Tyan S7106 1U server featuring two Intel Xeon Gold 6138 CPUs, 96GB of DDR4 system memory, and Samsung 970 EVO SSD. For the 10GbE connectivity on this server was an add-in HP NC523SFP PCIe adapter providing two 10Gb SPF+ ports using a QLogic 8214 controller.