Compartmentalized computing with CLIP OS
Submitted by Roy Schestowitz on Thursday 8th of November 2018 07:22:34 PM
Filed under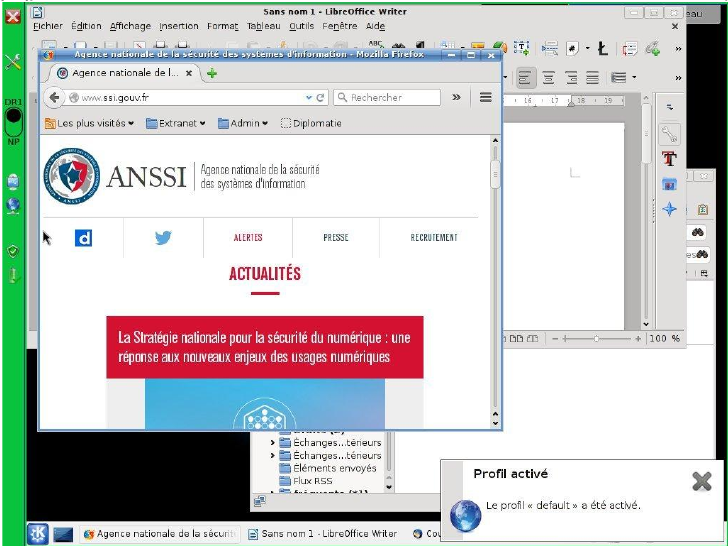 The design of CLIP OS 5 includes three elements: a bootloader, a core system, and the cages. The system uses secure boot with signed binaries. Only the x86 architecture was supported in the previous versions, and there are no other architectures in the plan for now. The core system is based on Hardened Gentoo. Finally, the cages provide user sessions, with applications and documents.
Processes running in separate cages cannot communicate directly. Instead, they must pass messages using special services on the core system; these services are unprivileged and confined on the cage system, but privileged on the core. These communication paths are shown in this architecture diagram from the documentation. Cages are also isolated from the core system itself — all interactions (system calls, for example) are checked and go through mediation services. The isolation between applications will be using containers, and the team plans to use the Flatpak format. The details of the CLIP OS 5 implementation are not available yet, as this feature is planned for the stable release.
A specific Linux security module (LSM) inspired from Linux-VServer will be used to add additional isolation between the cages, and between the cages and the core system. Linux-VServer is a virtual private server implementation designed for web hosting. It implements partitioning of a computer system in terms of CPU time, memory, the filesystem, and network addressing into security contexts. Starting and stopping a new virtual server corresponds to setting up and tearing down a security context.
»
Printer-friendly version

2706 reads

PDF version
More in Tux Machines
today's howtos and programming

Python 3.8 is in the development phase (currently in alpha phase) and it's expected to be released in September 2019. You can read the full documentation here. As expected, it has included a lot of features — assignment expressions, position only parameters, a lot of additions to builtin modules (improved modules), etc.

This week we welcome Sean McManus (@musicandwords) as our PyDev of the Week! Sean is the author of several books, including Mission Python: Code a Space Adventure Game!, which was reviewed on this site in March. There are free chapters from his book available here. You can learn more about Sean on his website. Let's take some time to get to know him better!

Another minor maintenance release of the nanotime package for working with nanosecond timestamps arrived on CRAN yesterday. nanotime uses the RcppCCTZ package for (efficient) high(er) resolution time parsing and formatting up to nanosecond resolution, and the bit64 package for the actual integer64 arithmetic. Initially implemented using the S3 system, it now uses a more rigorous S4-based approach thanks to a rewrite by Leonardo Silvestri.

I've had the great pleasure of attending PyConLT 2019 – my first trip to Lithuania. I had no idea what to expect (I've never been to this part of Europe) – Vilnius is a lovely city full of lovely Pythonistas. There's a bunch of lovely art hanging underneath bridges, an amazing Soviet Palace of Arts and Sports and a number of castles – it really is very lovely here.

KDE: Krita Interview, KDE Developer Documentation and KDE Craft Packager

I opted for trying Linux Mint, and tested Krita as my Photoshop replacement. Love at first sight! I currently run Manjaro KDE and it continues to be my only painting software (even on my Microsoft surface).

It has been nearly three months since I embarked on an adventure in the land known as dev docs. And while the set period for that work is coming to a close, the truth is that the journey has really only just begun. Just like the pioneers of old, the first important step is to get to survey the land and map it for future adventurers. The KDE community's developer documentation isn't exactly new territory but, through the years, it has grown from a garden to a huge forest with only a brave few doing the work to keep things from getting out of hand. They could use a helping hand.

In Craft, to create a package, we can use craft --package after the compiling and the installing of a library or an application with given blueprint name. On macOS, MacDMGPackager is the packager used by Craft. The MacDylibBundleris used in MacDMGPackager to handle the dependencies. In this article, I'll give a brief introduction of the two classes and the improvement which I've done for my GSoC project.

10 Best Free Linux Docks

Docks are utility software designed to basically make launching applications and navigating between app windows as easy as possible alongside beautifying the entire process. They implement animations, app icon shadows, customization options, widgets, etc. in different ways but they all aspire to one goal – boost productivity.

15 Best Free Linux Bioinformatics Tools

Bioinformatics has been defined in many different ways, but it is common ground to regard this discipline as the application of mathematics, computing and statistics to the analysis of biological information. The objective of bioinformatics is to enable the finding of new biological insights, and to create a broader, more critical view from which unifying principles in biology can be perceived. Bioinformatics is very important in the field of human genome research. It has become crucial for large-scale measurement technologies such as DNA sequencing, microarrays, and metabolomics. The field of bioinformatics has been aided significantly by Linux-based hardware and software. There are a number of Linux distributions which offer an integrated bioinformatics workstation. The popular distribution Bio-Linux packages hundreds of bioinformatics programs spanning a number of different fields. There's a wide selection of Linux bioinformatics tools released under an open source license. This article identifies our favorite tools which are extremely useful for anyone interested in sequence analysis, molecular modelling, molecular dynamics, phylogenetic analysis and more. We hope this feature offers a useful resource for biologists.