Open Invention Network is a Proponent of Software Patents -- Just Like Microsoft -- and Microsoft Keeps Patents It Uses to Blackmail Linux Vendors
Submitted by Roy Schestowitz on Thursday 11th of October 2018 12:16:42 AM
Filed under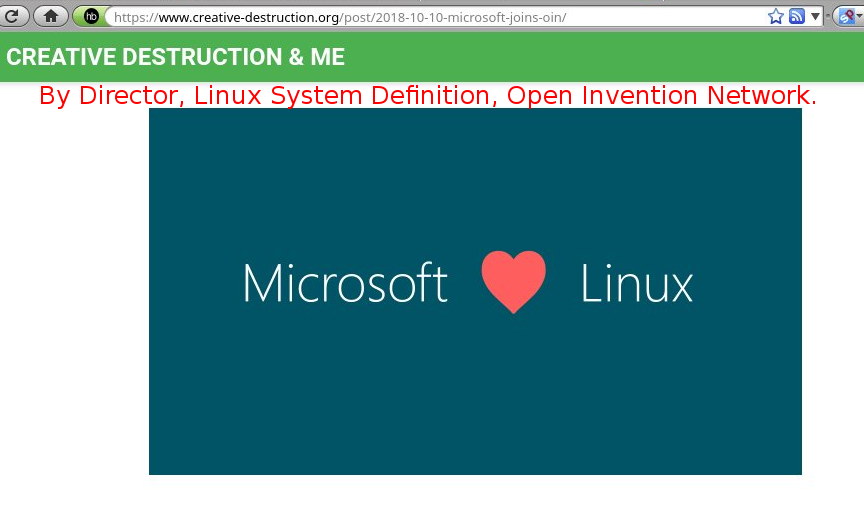 OIN loves Microsoft; OIN loves software patents as well. So Microsoft's membership in OIN is hardly a surprise and it's not solving the main issue either, as Microsoft can indirectly sue and "Microsoft has not included any patents they might hold on exfat into the patent non-aggression pact," according to Bradley M. Kuhn
»
Printer-friendly version

5052 reads

PDF version
More in Tux Machines
Hacker friendly LapPi laptop kit runs on Raspberry Pi 3B+

SB Components is Kickstartering a Raspberry Pi based "LapPi" laptop kit with 7- or 5-inch screens, keyboard, camera, speakers, and 3800mAh battery, starting at $220 with an RPi 3B+ or $178 without. SB Components has successfully funded its DIY LapPi kit on Kickstarter, and packages are available through Nov. 10 with December delivery. The company is known for its PiTalk smartphone and other Raspberry Pi add-on kits, which are available as options.

OSS and Sharing Leftovers

Is New Ubuntu 18.10 Worth Installing?

The new Ubuntu release "Cosmic Cuttlefish" has hit the OS market after 6 months of development. I've been using it since it came out and now here is what I have to say about it. In this article, I'll talk about the new things it brings in and also if it's the release worth upgrading to. So let's go.

Red Hat and Fedora Leftovers

Nominations are open for 2019 Red Hat Women in Open Source Awards. This is the fifth year of the awards that "were created and are sponsored by Red Hat to honor women who make important contributions to open source projects and communities, or those making innovative use of open source methodology". Nominations are being accepted until November 12, 2018. See the 2019 Women in Open Source Award Page for further details.