Open Invention Network is a Proponent of Software Patents -- Just Like Microsoft -- and Microsoft Keeps Patents It Uses to Blackmail Linux Vendors
Submitted by Roy Schestowitz on Thursday 11th of October 2018 12:16:42 AM
Filed under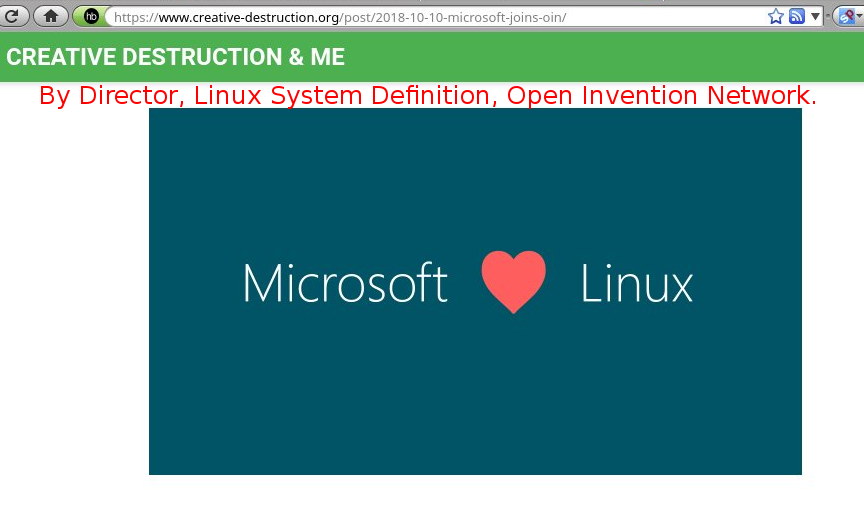 OIN loves Microsoft; OIN loves software patents as well. So Microsoft's membership in OIN is hardly a surprise and it's not solving the main issue either, as Microsoft can indirectly sue and "Microsoft has not included any patents they might hold on exfat into the patent non-aggression pact," according to Bradley M. Kuhn
»
Printer-friendly version

4935 reads

PDF version
More in Tux Machines
Red Hat and Fedora Leftovers

Nominations are open for 2019 Red Hat Women in Open Source Awards. This is the fifth year of the awards that "were created and are sponsored by Red Hat to honor women who make important contributions to open source projects and communities, or those making innovative use of open source methodology". Nominations are being accepted until November 12, 2018. See the 2019 Women in Open Source Award Page for further details.

Android Leftovers

Intel Core i9 9900K vs. AMD Ryzen 7 2700X Linux Gaming Benchmarks

Complementing the just-published Intel Core i9 9900K Linux benchmarks with the launch-day embargo lift are the Linux gaming benchmarks... This article is looking at the Linux performance between the Core i9 9900K and AMD's Ryzen 7 2700X in a variety of native Linux games as well as comparing the performance-per-Watt. So if you are a Linux gamer and deciding between these sub-$500 processors, this article is for you. If you didn't yet read the main article that features a 15-way CPU comparison on Ubuntu 18.10 with the Linux 4.19 kernel, here is a recap of this new Coffeelake refresh CPU. The Core i9 9900K is an eight-core / sixteen-thread processor with 3.6GHz base frequency and 5.0GHz turbo frequency. This 14nm CPU has a 16MB L3 cache, dual channel DDR4-2666 support, and a 95 Watt TDP. There is also the onboard UHD Graphics 630, but if you're a gamer, that isn't going to cut it. The Core i9 9900K is launching at $499 USD.

Intel Core i9 9900K Linux Benchmarks - 15-Way Intel/AMD Comparison On Ubuntu 18.10

Intel sent over the Core i9 9900K as their first 9th Gen Coffeelake-S CPU hitting store shelves today. With the embargo on that now expired, let's have a look at how well this eight-core / sixteen-thread processor performs under Linux. The Core i9 9900K is Intel's new answer for competing with the likes of the AMD Ryzen 7 2700X, but does come at a higher price point of $499 USD. While the Core i9 9900K is a Coffeelake refresh, rather than being six cores / twelve threads, they are matching AMD's precedent set by the Ryzen 7 processors in having eight cores / sixteen threads. This 14nm 8C / 16T processor has a base clock frequency of 3.6GHz with a turbo frequency at 5.0GHz, a 16MB L3 cache and supports dual-channel DDR4-2666 memory.