New Manjaro Beta Builds a Better Arch
Submitted by Rianne Schestowitz on Wednesday 10th of October 2018 04:47:29 PM
Filed under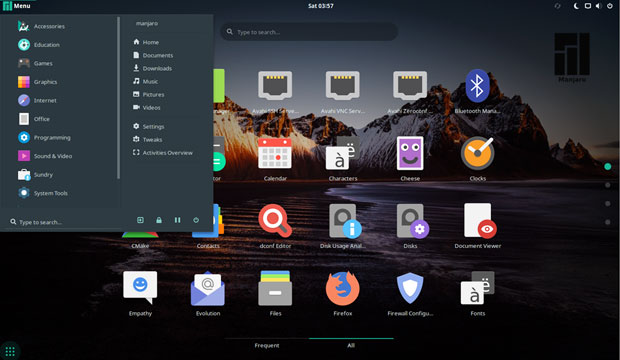 Regardless of which desktop you select, the welcome screen introduces Manjaro tools and get-acquainted details such as documentation, support tips, and links to the project site.
You can get a full experience in using the live session ISOs without making any changes to the computer's hard drive. That is another advantage to running Manjaro Linux over a true Arch distro. Arch distros usually do not provide live session environments. Most that do lack any automatic installation launcher from within the live session.
Caution: When you attempt to run the boot menu from the Manjaro DVD, pay attention to the startup menu. It is a bit confusing. To start the live session, go halfway down the list of loading choices to select the Boot Manjaro option. The other menu options let you configure non-default choices for keyboard, language, etc.
After the live medium loads the Manjaro live session, browse the categories in the welcome window. You can click the Launch Installer button in the welcome window or launch it after experiencing the live session by clicking on the desktop install icon or running the installation program from the main menu.
Installation is a simple and straightforward process. The Calamares installer allows newcomers to easily set up the distro. It gives advanced users lots of customization options.
»
Printer-friendly version

1560 reads

PDF version
More in Tux Machines
SUSE Manager 4: Traditional server management marries DevOps

Managing Linux servers has never been easy. Programs like Cockpit, cPanel, and Webmin use a GUI to make it simpler to handle common sysadmin tasks. But, with servers moving from the racks in your server room to the cloud and the edge and the Internet of Things (IoT), we need more. That's where DevOps comes in. And now programs like the new SUSE Manager 4 combine the best of both sysadmin approaches. Daniel Nelson, SUSE VP of products and solutions, explained in a statement: "SUSE Manager manages physical, virtual, and containerized systems across edge, core, and cloud environments, all from a single centralized console. It's part of the IT transformation that lowers costs, reduces complexity, and boosts business agility."

Runs on the Librem 5 Smartphone – Week 1

As we steadily work towards the release of the Librem 5 smartphone (Q3 of 2019), we're taking a look at one new application (or game, or feature) running on the Librem 5 Development Kit every single day. Below is the first week worth — Solitaire, web browser, system tools, note taking… just all over the map. Some of these are mobile optimized applications. Others are desktop Linux applications, running unmodified on Librem 5 development kit hardware.

today's howtos

Games Leftovers