New Manjaro Beta Builds a Better Arch
Submitted by Rianne Schestowitz on Wednesday 10th of October 2018 04:47:29 PM
Filed under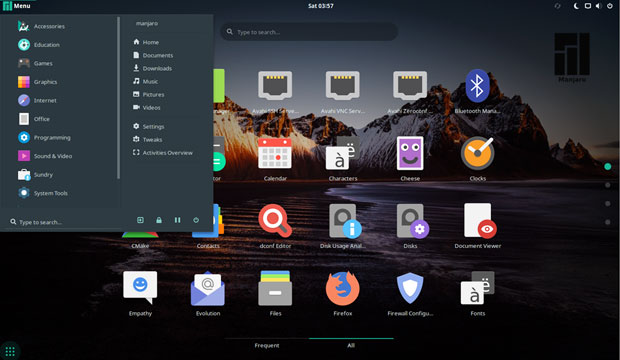 Regardless of which desktop you select, the welcome screen introduces Manjaro tools and get-acquainted details such as documentation, support tips, and links to the project site.
You can get a full experience in using the live session ISOs without making any changes to the computer's hard drive. That is another advantage to running Manjaro Linux over a true Arch distro. Arch distros usually do not provide live session environments. Most that do lack any automatic installation launcher from within the live session.
Caution: When you attempt to run the boot menu from the Manjaro DVD, pay attention to the startup menu. It is a bit confusing. To start the live session, go halfway down the list of loading choices to select the Boot Manjaro option. The other menu options let you configure non-default choices for keyboard, language, etc.
After the live medium loads the Manjaro live session, browse the categories in the welcome window. You can click the Launch Installer button in the welcome window or launch it after experiencing the live session by clicking on the desktop install icon or running the installation program from the main menu.
Installation is a simple and straightforward process. The Calamares installer allows newcomers to easily set up the distro. It gives advanced users lots of customization options.
»
Printer-friendly version

1435 reads

PDF version
More in Tux Machines
KDE is adding Matrix to its instant messaging infrastructure

KDE has been looking for a better way of chatting and live-sharing information for several years now. IRC has been a good solution for a long time, but it has centralized servers KDE cannot control. It is also insecure and lacks features users have come to expect from more modern IM services. Other alternatives, such as Telegram, Slack and Discord, although feature-rich, are centralized and built around closed-source technologies and offer even less control than IRC. This flies in the face of KDE's principles that require we use and support technologies based on Free software. However, our search for a better solution has finally come to an end: as of today we are officially using Matrix for collaboration within KDE! Matrix is an open protocol and network for decentralised communication, backed by an open standard and open source reference implementations for servers, clients, client SDKs, bridges, bots and more. It provides all the features you'd expect from a modern chat system: infinite scrollback, file transfer, typing notifications, read receipts, presence, search, push notifications, stickers, VoIP calling and conferencing, etc. It even provides end-to-end encryption (based on Signal's double ratchet algorithm) for when you want some privacy. Also: KDE To Support Matrix Decentralized Instant Messaging

Android Leftovers

Canonical Is Planning Some Awesome New Content For The Snap Store

There I was, thoughtfully drafting an article titled "3 Things Canonical Can Do To Improve The Snap Ecosystem," when I jumped on the phone with Evan Dandrea, an Engineering Manager who just so happens to be responsible for the Snapcraft ecosystem at Canonical. As it turns out, that headline will need a slight edit. One less number. That's because I've just learned Canonical has some ambitious plans for the future of the Snap Store.

Extensive Benchmarks Looking At AMD Znver1 GCC 9 Performance, EPYC Compiler Tuning

With the GCC 9 compiler due to be officially released as stable in the next month or two, we've been running benchmarks of this near-final state to the GNU Compiler Collection on a diverse range of processors. In recent weeks that has included extensive compiler benchmarks on a dozen x86_64 systems, POWER9 compiler testing on the Talos II, and also the AArch64 compiler performance on recent releases of GCC and LLVM Clang. In this latest installment of our GCC 9 compiler benchmarking is an extensive look at the AMD EPYC Znver1 performance on various releases of the GCC compiler as well as looking at various optimization levels under this new compiler on the Znver1 processor.