ZX Spectrum Vega+ blows a FUSE: It runs open-source emulator
Submitted by Roy Schestowitz on Thursday 9th of August 2018 11:55:06 AM
Filed under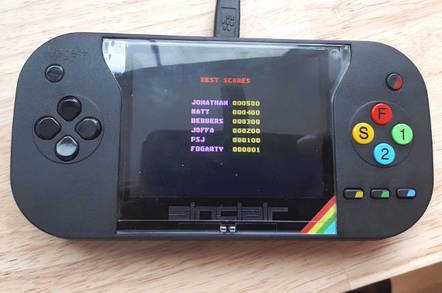 The ZX Spectrum Vega+ is running open-source Spectrum emulator software FUSE, The Register has confirmed while carrying out a hands-on review of the handheld console.
As regular readers know, the Vega+ is the flagship product of Retro Computers Ltd, the company which took £513,000 in crowdfunded cash from members of the public to produce handheld ZX Spectrum-themed gaming consoles. It failed to deliver any for two years and then belatedly emitted what appear to be several dozen of the devices last week.
With public interest at an all-time high in what the company has actually produced during the ongoing scandal, El Reg acquired one from an RCL customer for review purposes.
No instructions were supplied with the console. In time-honoured retro gaming fashion, The Register's crack review team resorted to button-mashing to figure out what did what.
»
Printer-friendly version

2023 reads

PDF version
More in Tux Machines
Flock 2018 Reports

Kernel: Linux 4.19 and Vega 20 PowerPlay

today's howtos

Security: Disclose.io, Adobe, Apple and Instagram

,

Earlier this month, Bugcrowd launched a new reporting framework that aims to further protect security researchers, create a "safe harbour" for ethical hackers, and address legal risks when it comes to disclosures. The Disclose.io project is a new set of open-source vulnerability guidelines written with both researchers and organizations in mind. In an increasingly digital world, companies and vendors are turning to white hat hackers to help bolster their security measures and protect their business.

Attackers are compromising Instagram accounts and locking out users, so take a moment to lock down your account.

When she tried to log back in, she got a message that her username didn't exist. She soon realized her handle and photo had both been changed, as had the email address and phone number associated with her account. She tried to request a password reset, only to see the new email linked to her account was now a .ru email: she had been hacked.