ZX Spectrum Vega+ blows a FUSE: It runs open-source emulator
Submitted by Roy Schestowitz on Thursday 9th of August 2018 11:55:06 AM
Filed under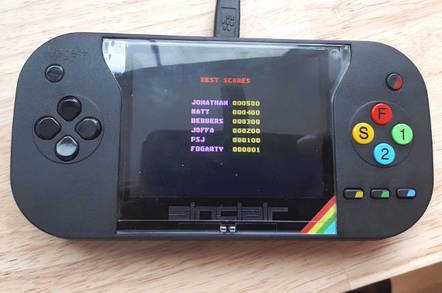 The ZX Spectrum Vega+ is running open-source Spectrum emulator software FUSE, The Register has confirmed while carrying out a hands-on review of the handheld console.
As regular readers know, the Vega+ is the flagship product of Retro Computers Ltd, the company which took £513,000 in crowdfunded cash from members of the public to produce handheld ZX Spectrum-themed gaming consoles. It failed to deliver any for two years and then belatedly emitted what appear to be several dozen of the devices last week.
With public interest at an all-time high in what the company has actually produced during the ongoing scandal, El Reg acquired one from an RCL customer for review purposes.
No instructions were supplied with the console. In time-honoured retro gaming fashion, The Register's crack review team resorted to button-mashing to figure out what did what.
»
Printer-friendly version

2355 reads

PDF version
More in Tux Machines
Opening Files with Qt on Android

After addressing Android support in KF5Notifications another fairly generic task that so far required Android specific code is next: opening files. Due to the security isolation of apps and the way the native "file dialog" works on Android this is quite different from other platforms, which makes application code a bit ugly. This can be fixed in Qt though.

Android Leftovers

Ubuntu-Centric Full Circle Magazine and Debian on the Raspberryscape

I already mentioned here having adopted and updated the Raspberry Pi 3 Debian Buster Unofficial Preview image generation project. As you might know, the hardware differences between the three families are quite deep ? The original Raspberry Pi (models A and B), as well as the Zero and Zero W, are ARMv6 (which, in Debian-speak, belong to the armel architecture, a.k.a. EABI / Embedded ABI). Raspberry Pi 2 is an ARMv7 (so, we call it armhf or ARM hard-float, as it does support floating point instructions). Finally, the Raspberry Pi 3 is an ARMv8-A (in Debian it corresponds to the ARM64 architecture). [...] As for the little guy, the Zero that sits atop them, I only have to upload a new version of raspberry3-firmware built also for armel. I will add to it the needed devicetree files. I have to check with the release-team members if it would be possible to rename the package to simply raspberry-firmware (as it's no longer v3-specific). Why is this relevant? Well, the Raspberry Pi is by far the most popular ARM machine ever. It is a board people love playing with. It is the base for many, many, many projects. And now, finally, it can run with straight Debian! And, of course, if you don't trust me providing clean images, you can prepare them by yourself, trusting the same distribution you have come to trust and love over the years.

OSS: SVT-AV1, LibreOffice, FSF and Software Freedom Conservancy