Richard Hughes: GNOME Software and automatic updates
Submitted by Roy Schestowitz on Wednesday 8th of August 2018 11:38:37 PM
Filed under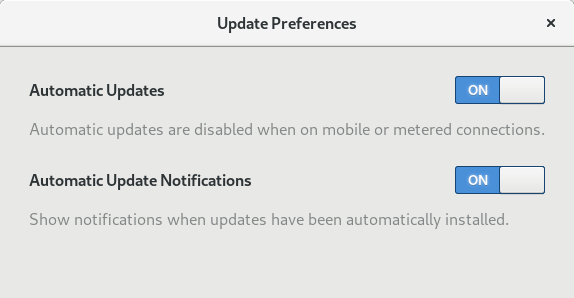 For GNOME 3.30 we've enabled something that people have been asking for since at least the birth of the gnome-software project: automatically installing updates.
This of course comes with some caveats. Since it's still not safe to auto-update packages (trust me, I triaged the hundreds of bugs) we will restrict automatic updates to Flatpaks. Although we do automatically download things like firmware updates, ostree content, and package updates by default they're deployed manually like before. I guess it's important to say that the auto-update of Flatpaks is optional and can easily be turned off in the GUI, and that you'll be notified when applications have been auto-updated and need restarting.
»
Printer-friendly version

5142 reads

PDF version
More in Tux Machines
today's howtos

RaspEX Project Brings Kodi 18.1 and Linux Kernel 5.0 to Raspberry Pi 3 Model B+

Based on Debian GNU/Linux and Raspberry Pi's Raspbian operating systems, RaspEX Kodi Build 190321 is now available with the latest Kodi 18.1 "Leia" media center software featuring add-ons for watching Netflix, Amazon Prime Video, and Plex, as well as the lightweight LXDE desktop environment with VLC media player and NetworkManager. RaspEX Kodi Build 190321 is also powered by the latest and greatest Linux 5.0 kernel series, which apparently works very well with the recently launched Raspberry Pi 3 Model B+ single-board computer. However, while Raspberry Pi 3 Model B+ is recommended for RaspEX, you can also install it on a Raspberry Pi 3 Model B or the older Raspberry Pi 2 Model B.

Android Leftovers

SparkyLinux Incinerates the Hassle Factor

SparkyLinux gives you an operating system that is out-of-the-box ready for use. It comes with multimedia plugins, selected sets of apps, and its own custom tools to ease different tasks. SparkyLinux is a well-thought-out Linux OS. It has straightforward controls that let you get your work done without distractions. The user interface is friendly, intuitive and efficient. SparkyLinux is a very functional Linux OS. It is a solid choice for use as an all-purpose home edition with all the tools, codecs, plugins and drivers preinstalled. You may not need the USB installation. However, if your computer runs Microsoft Windows or another Linux distro, putting SparkyLinux on a USB stick is much easier than setting up a dual boot on the hard drive or replacing whatever is running on that computer already.