FreeBSD has its own TCP-queue-of-death bug, easier to hose than Linux's SegmentSmack
Submitted by Roy Schestowitz on Wednesday 8th of August 2018 05:04:05 PM
Filed under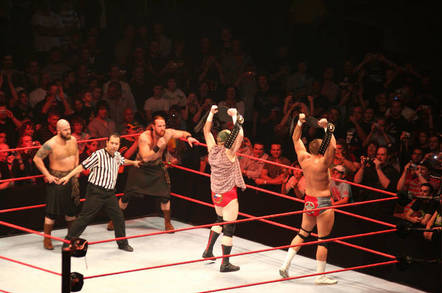 Hard on the heels of the Linux kernel's packets-of-death attack dubbed SegmentSmack, a similar vulnerability has been disclosed and fixed in FreeBSD.
Attributed to SegmentSmack discoverer Juha-Matti Tilli of Aalto University in Finland, the FreeBSD TCP issue is related to how the operating system's networking stack reassembles segmented packets. Much in the same way Linux kernel versions 4.9 and higher can be brought down by bad network traffic, a sequence of maliciously crafted packets can also crash FreeBSD machines.
FreeBSD 10, 10.4, 11, 11.1, and 11.2 are affected, and the maintainers have released patches to mitigate the programming cockup. In the open-source operating system project's advisory for CVE-2018-6922 (Linux's SegmentSmack was assigned CVE-2018-5390), the problem was this week described as an "inefficient algorithm" involving a segment reassembly data structure.
»
Printer-friendly version

1868 reads

PDF version
More in Tux Machines
OSS Leftover

In 2015, while sat in a meeting at his full-time job, Julius Sweetland posted to Reddit about a project he had quietly been working on for years, that would help people with motor neurone disease communicate using just their eyes and an application. He forgot about the post for a couple of hours before friends messaged him to say he'd made the front page. Now three years on Optikey, the open source eye-tracking communication tool, is being used by thousands of people, largely through word of mouth recommendations. Sweetland was speaking at GitHub Universe at the Palace of Fine Art in San Francisco, and he took some time to speak with Techworld about the project. [...] Originally, Sweetland's exposure to open source had largely been through the consumption of tools such as the GIMP. "I knew of the concept, I didn't really know how the nuts and bolts worked, I was always a little blase about how do you make money from something like that... but flipping it around again I'm still coming from the point of view that there's no money in my product, so I still don't understand how people make money in open source...

Platform9 just released updates to Fission.io - the open source, Kubernetes-native Serverless framework, with new features enabling developers and IT Operations to improve the quality and reliability of serverless applications. Other new features include Automated Canary Deployments to reduce the risk of failed releases, Prometheus integration for automated monitoring and alerts, and fine-grained cost and performance optimization capabilities. With this latest release, Fission offers the most complete set of features to allow Dev and Ops teams to safely adopt Serverless and benefit from the speed, cost savings and scalability of this cloud native development pattern on any environment - either in the public cloud or on-premises.

United States: It's Ten O'Clock: Do You Know Where Your Software Developers Are? [Ed: Smith Gambrell & Russell LLP are liars. Dana Hustins says FSF "purport to convert others' proprietary software into open source software" in there. They paint GPL as a conspiracy of some kind to entrap proprietary s/w developers.]

Even new programmers can provide a lot of value with their code reviews. You don't have to be a Rockstar Ninja 10x Unicorn Diva programmer with years and years of experience to have valuable insights. In fact, you don't even have to be a programmer at all. You just have to be knowledgable enough to spot patterns. While you won't be able to do a complete review without programming knowledge, you may still spot things that could use some work or clarification. If you're not a Rockstar Ninja 10x Unicorn Diva programmer, not only is your code review feedback still valuable, but you can also learn a great deal in the process: Code layout, programming style, domain knowledge, best practices, neat little programming tricks you'd not have seen otherwise, and sometimes antipatterns (or "how not to do things"). So don't let the fact that you're unfamiliar with the code, the project, or the language hold you back from reviewing code contributions. Give it a go and see what there is to learn and discover.

Security Leftovers

Nadav Amit of VMware has announced their (currently experimental) work on "dynamic indirect call promotion" or what they have dubbed "RELPOLINES" -- not to be confused with the traditional Retpolines for "return trampolines" as one of the Spectre Variant Two software-based mitigation approaches. Relpolines is designed to have lower overhead than Retpolines.

Android Leftovers

Ubuntu 18.10 (Cosmic Cuttlefish) Is Now Available to Download

After six months in development, Ubuntu 18.10 (Cosmic Cuttlefish) is now finally here, and you can download the ISO images right now for all official flavors, including Kubuntu, Xubuntu, Lubuntu, Ubuntu MATE, Ubuntu Budgie, Ubuntu Kylin, and Ubuntu Studio, for 64-bit and 32-bit architectures (only Lubuntu and Xubuntu). The Ubuntu Server edition is also out and it's supported on more hardware architectures than Ubuntu Desktop, including 64-bit (amd64), ARM64 (AArch64), IBM System z (s390x), PPC64el (Power PC 64-bit Little Endian), and Raspberry Pi 2/ARMhf. A live Ubuntu Server flavor is also available only for 64-bit computers. Also: Ubuntu Linux 18.10 arrives