Exiled Kingdoms - a mobile RPG with decent depth, now on Linux
Submitted by Roy Schestowitz on Tuesday 7th of August 2018 10:53:48 PM
Filed under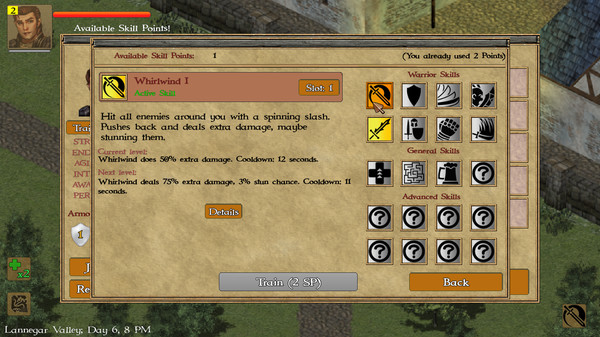 Hello and welcome to my first article on GOL. Today I will talk about a game I played on Android and eventually on Linux called Exile Kingdoms. I first played this game on a tablet, under circumstances I have honestly forgotten, but it left an impression. I decided to pick it up on Steam to relive the experience on a more comfortable platform.
However, I won't lie, the game is primitive by modern standards. The graphics are somewhere between Dink Smallwood and Diablo 1, and the combat is retro with lots of stutter.
Yet despite all this, I like it. I like it a lot. So why is that? Well for one it has a big world. And due to the lack of fast travel, excluding mage towers that can teleport you, it just feels big. In this respect it reminds me of Morrowind, where you had to use Silt Striders and Mage Guilds to move long distances. Oblivion, by comparison, seemed to lose a lot by allowing the player to teleport everywhere like Captain Picard.
»
Printer-friendly version

1880 reads

PDF version
More in Tux Machines
The 5 Best Linux Distros for Laptops

Maybe you've just purchased a brand new laptop. Or maybe you have an older laptop sitting in your closet that you'd like to bring back to life. Either way, the best Linux distros for laptops are those that offer better driver support and can accommodate the performance offered by most laptops. People buy laptops for a specific purpose. That may be software development, creating graphic content, gaming, or office work. The Linux distros below are well suited to run on any laptop.

Graphics: Freedreno Gallium3D and NVIDIA

While Qualcomm was busy hosting their Tech Summit this week in Hawaii, the independent open-source developers were pressing ahead with their reverse-engineered Qualcomm Adreno 3D graphics driver support. Rob Clark of Red Hat and Kristian Kristensen of Google landed their latest Freedreno Gallium3D driver improvements into Mesa 19.0. The most notable addition was multi-sample anti-aliasing support (MSAA) for the Adreno 600 series hardware. There is also now EXT_multisampled_render_to_texture support exposed by this Gallium3D driver. Besides that work there were also fixes and other changes.

While it's not as exciting as if seeing full 3D open-source driver support, with the upcoming Linux 4.21 kernel are some mainline Tegra improvements that does include HDMI audio support for the X2 and Xavier SoCs. Thierry Reding of NVIDIA sent in the Tegra DRM driver updates this week for the upcoming Linux 4.21 cycle. He commented, "These changes contain a couple of minor fixes for host1x and the Falcon library in Tegra DRM. There are also a couple of missing pieces that finally enable support for host1x, VIC and display on Tegra194. I've also added a patch that enables audio over HDMI using the SOR which has been tested, and works, on both Tegra186 and Tegra194."

Powers of two, powers of Linux: 2048 at the command line

Hello and welcome to today's installment of the Linux command-line toys advent calendar. Every day, we look at a different toy for your terminal: it could be a game or any simple diversion that helps you have fun. Maybe you have seen various selections from our calendar before, but we hope there's at least one new thing for everyone. Today's toy is a command-line version of one of my all-time favorite casual games, 2048 (which itself is a clone of another clone).

More Radeon RX 590 Ubuntu Benchmarks - See How Your Linux GPU Performance Compares

Published on Friday was my Radeon RX 590 Linux benchmarks now that the kinks in the support for this latest Polaris refresh are worked out (at least in patch form). Here are some complementary data points with some of the OpenGL tests outside of the Steam games for those curious about the RX 590 performance in other workloads or wanting to see how your own GPU performance would compare to these results. The Radeon RX 590 continues running well with the patched Linux 4.20 kernel build (hopefully the last patch needed for the RX 590 will make it into 4.20 mainline soon) and in user-space was Mesa 19.0 from the Padoka PPA for this system running on Ubuntu 18.04 LTS.