ExTiX 18.8 with Deepin 15.5 Desktop, Refracta snapshot, Calamares 3.1.12 Installer and kernel 4.18.0-rc5-extix – Build 180807
Submitted by Roy Schestowitz on Tuesday 7th of August 2018 08:00:13 PM
Filed under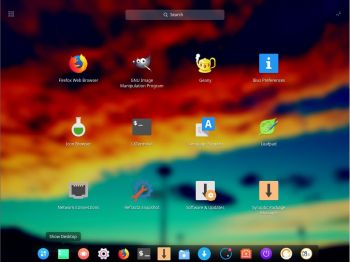 I've released a new version of ExTIX 18.8 Deepin today with Calamares 3.1.12 and kernel 4.18.0-rc5-extix. Calamares is an installer framework. By design it is very customizable, in order to satisfy a wide variety of needs and use cases. All packages have been updated to the latest available version as of today. Study all installed packages in ExTiX Deepin Build 180807. ExTiX is based on Debian and Ubuntu 18.04.1.
»
Printer-friendly version

1614 reads

PDF version
More in Tux Machines
A Bright Spotlight on elementary OS 5.0

It's really bright. elementary OS 5.0 is the best release so far by mainly it's AppCenter uniqueness and richest of desktop features ever among the prior releases. The thing I love the most is the fact that elementary OS developers contribute greatly to our community which we didn't see anything like that before: they created a new software distribution platform similar to what we previously saw on Apple macOS, except it's for free/libre open source software, by allowing app developers to get paid directly by the users (with the so-called "pay-what-you-want" system). elementary OS is popular, as you may see on Distrowatch, so we can expect bright future for the health of its apps market (and hope more developers getting attracted to join). The desktop is really usable, the shortcut keys are visible (by pressing Super key) and customizable, its enhanced with parental control as well as Night Light, the apps are plenty and still growing in numbers, plus it's compatible with Ubuntu 18.04 so you can install thousands of packages if you wish right now. I can run it really smooth on an Intel 967 CPU with 4GB RAM (Intel Graphics). I hope it will be smoother on your systems. I wish this quick review of mine helps you a lot to get attracted to elementary OS and soon be a happy user.

Graphics: Open-Source Qualcomm Graphics Support, Advances in Mesa Continuous Integration and Status Update for Virgl

When it comes to open-source ARM graphics drivers, the Raspberry Pi / VC4 effort and Freedreno continue to be the two best examples of fully open-source graphics driver coverage including 3D support. Freedreno has been attracting contributions from Qualcomm / CodeAurora in what started out as solely a community reverse-engineered effort and with the latest-generation Adreno 600 series hardware the open-source support is in great shape.

Continuous integration (CI) has become increasingly prevalent in open-source projects over the last few years. Intel has been active in building CI systems for graphics, both for the kernel side and for the Mesa-based user-space side of the equation. Mark Janes and Clayton Craft gave a presentation on Intel's Mesa CI system at the 2018 X.Org Developers Conference (XDC), which was held in A Coruña, Spain in late September. The Mesa CI system is one of the earliest successful CI initiatives in open source that he knows of, Janes said. It is a core component of Mesa development, especially at Intel. Like many companies, Intel is a large organization with an "old school development model". He likened it to a Roman army, where there are legions that are made up of smaller groups, each of which has procedures for all of its activities; tents are set up and arranged the same way each time. When Intel first encountered Mesa development, it was something of a shock. There were no architects in the group, but the Mesa developers were simply running right through the Intel army.

At the 2018 X.Org Developers Conference, Elie Tournier gave an update on the state of the Virgil (or virgl) virtual 3D GPU for QEMU. He looked at the project's history along with what has happened with it over the last year or so. As is usual in a status update talk, he finished with some thoughts about future plans for virgl. For the last year, Tournier has been working on virgl for Collabora. Virgil began as a Dave Airlie side project four or five years ago. Tournier recommended a YouTube video of a 2014 linux.conf.au talk that Airlie gave as a good starting point. It is meant to be a way for guests running in a virtual machine (VM) to access the host GPU using OpenGL and other APIs. It is based on Gallium3D, because Airlie was familiar with that architecture, Tournier said. It has reached the stage where it is ready for use in products. A company is currently building a project using it; in addition, QEMU is using virgl to allow Windows guests to access the GPU. Overall, virgl is in pretty good shape, he said.

Raspbian Linux distribution updated, but with one unexpected omission

Those last two are the ones that really produced some excitement in the Raspberry Pi community. Just look at that next to last one... so innocent looking... but then go and look at the discussion in the Pi Forums about it. For those who might not be familiar with it, Mathematica (and the Wolfram language) is a technical computing system that is very widely used in both education and industry. It has been included on the Raspberry Pi since the beginning, and when you consider that a normal "desktop" license costs €160 for a "student", or €345 for "home and hobby", it's an exceptionally good deal to get it for free with a $35 Raspberry Pi. That makes it a bit easier to understand why some users would be upset about it being removed.

Games: Kingdom Rush Origins, Jackbox Games, Gaming on the Latest Ubuntu

Ironhide Game Studio's latest Tower Defense PC release is out now with Kingdom Rush Origins with same-day Linux support.

Jackbox Games, Inc. have release their latest pack of party games with The Jackbox Party Pack 5 and it's their first to officially support Linux.

Among the changes to find in Ubuntu 18.10 are the latest stable Linux kernel as well as a significant Mesa upgrade and also the latest X.Org Server. These component upgrades make for a better Linux gaming experience particularly if using a modern AMD Radeon graphics card. Here are some results as well as whether it's worthwhile switching to Linux 4.19 and Mesa 18.3-dev currently on Ubuntu 18.10.