Ribbons and Tabs Give OnlyOffice Suite a Fresh Look
Submitted by Rianne Schestowitz on Tuesday 10th of July 2018 07:54:12 PM
Filed under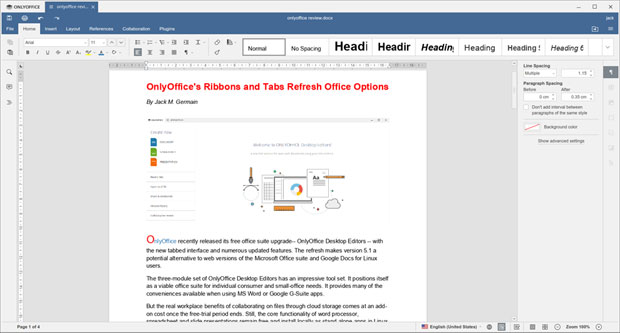 Ascensio System SIA recently released its free office suite upgrade -- OnlyOffice Desktop Editors -- with a ribbon and tab interface plus numerous updated features. The refresh makes version 5.1 a potential alternative to Web versions of the Microsoft Office suite and Google Docs for Linux users.
The three-module set of OnlyOffice Desktop Editors has an impressive collection of tools geared toward individual consumers and small offices. It provides many of the conveniences available when using MS Word or Google G-Suite apps.
However, the real workplace benefits of collaborating on files through cloud storage come at an add-on cost once the free-trial period ends. Still, the core functionality -- word processor, spreadsheet and slide presentations -- remains free and installs locally as standalone apps in Linux distributions that use .DEB, .RPM and Snap software packages.
»
Printer-friendly version

4164 reads

PDF version
More in Tux Machines
Ubuntu-Centric Full Circle Magazine and Debian on the Raspberryscape

I already mentioned here having adopted and updated the Raspberry Pi 3 Debian Buster Unofficial Preview image generation project. As you might know, the hardware differences between the three families are quite deep ? The original Raspberry Pi (models A and B), as well as the Zero and Zero W, are ARMv6 (which, in Debian-speak, belong to the armel architecture, a.k.a. EABI / Embedded ABI). Raspberry Pi 2 is an ARMv7 (so, we call it armhf or ARM hard-float, as it does support floating point instructions). Finally, the Raspberry Pi 3 is an ARMv8-A (in Debian it corresponds to the ARM64 architecture). [...] As for the little guy, the Zero that sits atop them, I only have to upload a new version of raspberry3-firmware built also for armel. I will add to it the needed devicetree files. I have to check with the release-team members if it would be possible to rename the package to simply raspberry-firmware (as it's no longer v3-specific). Why is this relevant? Well, the Raspberry Pi is by far the most popular ARM machine ever. It is a board people love playing with. It is the base for many, many, many projects. And now, finally, it can run with straight Debian! And, of course, if you don't trust me providing clean images, you can prepare them by yourself, trusting the same distribution you have come to trust and love over the years.

OSS: SVT-AV1, LibreOffice, FSF and Software Freedom Conservancy

Security: Back Doors Running Amok, Container Runtime Flaw Patched, Cisco Ships Exploit Inside Products

10 Cool Software to Try from CORP Repo in Fedora

In this article, we will share 10 cool software projects to try in Fedora distribution. All the apps or tools covered here can be found in COPR repository. However, before we move any further, let's briefly explain COPR.