Ribbons and Tabs Give OnlyOffice Suite a Fresh Look
Submitted by Rianne Schestowitz on Tuesday 10th of July 2018 07:54:12 PM
Filed under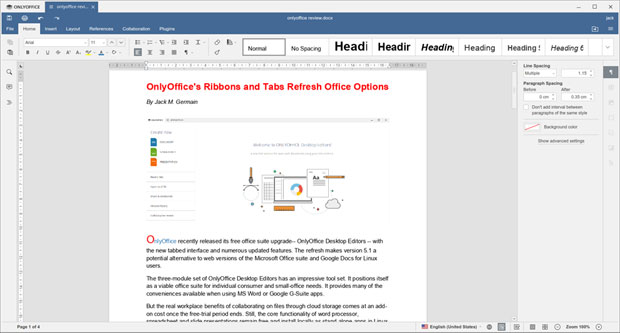 Ascensio System SIA recently released its free office suite upgrade -- OnlyOffice Desktop Editors -- with a ribbon and tab interface plus numerous updated features. The refresh makes version 5.1 a potential alternative to Web versions of the Microsoft Office suite and Google Docs for Linux users.
The three-module set of OnlyOffice Desktop Editors has an impressive collection of tools geared toward individual consumers and small offices. It provides many of the conveniences available when using MS Word or Google G-Suite apps.
However, the real workplace benefits of collaborating on files through cloud storage come at an add-on cost once the free-trial period ends. Still, the core functionality -- word processor, spreadsheet and slide presentations -- remains free and installs locally as standalone apps in Linux distributions that use .DEB, .RPM and Snap software packages.
»
Printer-friendly version

4065 reads

PDF version
More in Tux Machines
Linux Kernel: EROFS, Heterogeneous Memory Management, Getting Involved, 4.20-rc3, and DRM ('Secure Output Protocol')

more of today's howtos

Best Linux Desktop Environments: Strong and Stable

A desktop environment is a collection of disparate components that integrate together. They bundle these components to provide a common graphical user interface with elements such as icons, toolbars, wallpapers, and desktop widgets. Additionally, most desktop environments include a set of integrated applications and utilities. Desktop environments (now abbreviated as DE) provide their own window manager, system software that controls the placement and appearance of windows within a windowing system. They also provide a file manager which organizes, lists, and locates files and directories. Other aspects include a background provider, a panel to provide a menu and display information, as well as a setting/configuration manager to customize the environment. Ultimately, a DE is a piece of software. While they are more complicated than most other types of software, they are installed in the same way.

KDE neon upgrade - From 16.04 to 18.04

I am quite happy with the KDE neon upgrade, going from the 16.04 to the 18.04 base. I think it's good on several levels, including improved hardware support and even slightly better performance. Plus there were no crashes or regressions of any kind, always a bonus. This means that neon users now have a fresh span of time to enjoy their non-distro distro, even though it's not really committing to any hard dates, so the LTS is also only sort of LTS in that sense. It's quite metaphysical. On a slightly more serious note, this upgrade was a good, positive experience. I semi-accidentally tried to ruin it, but the system recovered remarkably, the post-upgrade results are all sweet, and you have a beautiful, fast Plasma desktop, replete with applications and dope looks and whatnot. I'm happy, and we shall bottle that emotion for when the need arises, and in the Linux world it does happen often, I shall have an elixir of rejuvenation to sip upon. KDE neon, a surprisingly refined non-distro distro.