Ribbons and Tabs Give OnlyOffice Suite a Fresh Look
Submitted by Rianne Schestowitz on Tuesday 10th of July 2018 07:54:12 PM
Filed under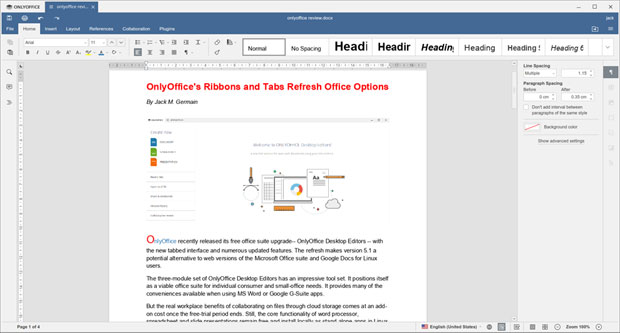 Ascensio System SIA recently released its free office suite upgrade -- OnlyOffice Desktop Editors -- with a ribbon and tab interface plus numerous updated features. The refresh makes version 5.1 a potential alternative to Web versions of the Microsoft Office suite and Google Docs for Linux users.
The three-module set of OnlyOffice Desktop Editors has an impressive collection of tools geared toward individual consumers and small offices. It provides many of the conveniences available when using MS Word or Google G-Suite apps.
However, the real workplace benefits of collaborating on files through cloud storage come at an add-on cost once the free-trial period ends. Still, the core functionality -- word processor, spreadsheet and slide presentations -- remains free and installs locally as standalone apps in Linux distributions that use .DEB, .RPM and Snap software packages.
»
Printer-friendly version

3871 reads

PDF version
More in Tux Machines
Moving Compiler Dependency Checks to Kconfig

One reason became clear recently when Linus Torvalds asked developers to add an entirely new system of dependency checks to the Kconfig language, specifically testing the capabilities of the GCC compiler. It's actually an important issue. The Linux kernel wants to support as many versions of GCC as possible—so long as doing so would not require too much insanity in the kernel code itself—but different versions of GCC support different features. The GCC developers always are tweaking and adjusting, and GCC releases also sometimes have bugs that need to be worked around. Some Linux kernel features can only be built using one version of the compiler or another. And, some features build better or faster if they can take advantage of various GCC features that exist only in certain versions. Up until this year, the kernel build system has had to check all those compiler features by hand, using many hacky methods. The art of probing a tool to find out if it supports a given feature dates back decades and is filled with insanity. Imagine giving a command that you know will fail, but giving it anyway because the specific manner of failure will tell you what you need to know for a future command to work. Now imagine hundreds of hacks like that in the Linux kernel build system.

Fedora be pretty - The ultimate customization guide

I am quite pleased with the final result of this transformation. But it also requires a lot of non-standard changes, which is a shame, because none of what I did, subjective taste elements aside, is super complicated. Imagine a Fedora, or for that any which distro, that has everything really nicely tailored for max. efficiency, ergonomics, productivity, and fun. My journey encompasses the use of third-party repos, extra software, Gnome Tweak Tool, about a dozen extensions, new themes, icons, and fonts, the use of a dock, plus some extra visual polish. In the end, though, Fedora 28 looks and behaves the part. This is something I could happily show to other people, and I am convinced they would be inclined to try it. Well, there you go. The guide. Hopefully, you'll find it useful, and perhaps it may even hype up your enthusiasm for Linux. In these dreary times, an injection of fanboyese is quite needed. Take care.

Red Hat Reports Results, Shares Collapse

Linux operating system distributor Red Hat Inc reported a 10.5 percent fall in quarterly profit on Wednesday, hurt by a rise in expenses. The company's profit fell to $86.85 million, or 46 cents per share, in the second quarter ended Aug. 31, from $97.09 million, or 53 cents per share, a year earlier.

today's leftovers