Bluestar Gives Arch Linux a Celestial Glow
Submitted by Roy Schestowitz on Thursday 5th of April 2018 06:32:48 PM
Filed under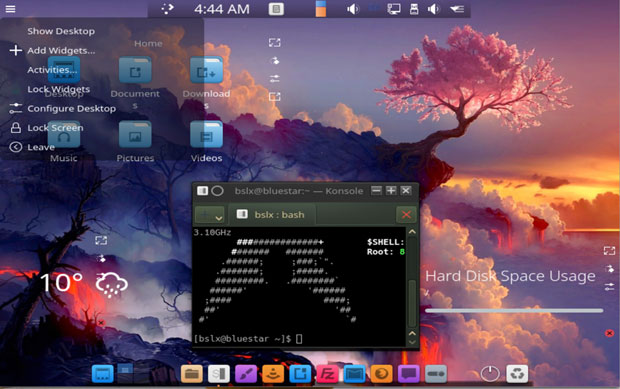 Using most any Arch Linux distro usually involves balancing the desire for hands-on control of the operating system from scratch against the attraction of convenient installation and maintenance processes. Bluestar Linux is one of the few Arch distros that gets the balancing act right.
Bluestar Linux is a GNU/Linux distribution that features up-to-date packages, an impressive range of desktop and multimedia software in the default installation, and a live desktop DVD. The live session capability is one of Bluestar's more enticing qualities.
The live session feature lets you easily check out its operation on your own hardware before actually installing the OS to your hard drive. Even better, the installation uses the Calamares installer for a smooth, automated setup. Most other Arch installations require manual installations that involve a command line nightmare. Often that leaves hopeful users frustrated when critical components fail to work on their gear.
»
Printer-friendly version

3536 reads

PDF version
More in Tux Machines
Games: Spearmint, Rise to Ruins, Depth of Extinction, Puzlogic, Never Split the Party, Godot Engine, DXVK

LLVM 7.0.0 Released

The release contains the work on trunk up to SVN revision 338536 plus work on the release branch. It is the result of the community's work over the past six months, including: function multiversioning in Clang with the 'target' attribute for ELF-based x86/x86_64 targets, improved PCH support in clang-cl, preliminary DWARF v5 support, basic support for OpenMP 4.5 offloading to NVPTX, OpenCL C++ support, MSan, X-Ray and libFuzzer support for FreeBSD, early UBSan, X-Ray and libFuzzer support for OpenBSD, UBSan checks for implicit conversions, many long-tail compatibility issues fixed in lld which is now production ready for ELF, COFF and MinGW, new tools llvm-exegesis, llvm-mca and diagtool. And as usual, many optimizations, improved diagnostics, and bug fixes.

As anticipated, LLVM release manager Hans Wennborg announced the official availability today of LLVM 7.0 compiler stack as well as associated sub-projects including the Clang 7.0 C/C++ compiler front-end, Compiler-RT, libc++, libunwind, LLDB, and others. There is a lot of LLVM improvements ranging from CPU improvements for many different architectures, Vega 20 support among many other AMDGPU back-end improvements, the new machine code analyzer utility, and more. The notable Clang C/C++ compiler has picked up support for function multi-versioning (FMV), initial OpenCL C++ support, and many other additions. See my LLVM 7.0 / Clang 7.0 feature overview for more details on the changes with this six-month open-source compiler stack update.

Android Leftovers

The Future of Open Source

Linux and the open source business model are far different today than many of the early developers might have hoped. Neither can claim a rags-to-riches story. Rather, their growth cycles have been a series of hit-or-miss milestones. The Linux desktop has yet to find a home on the majority of consumer and enterprise computers. However, Linux-powered technology has long ruled the Internet and conquered the cloud and Internet of Things deployments. Both Linux and free open source licensing have dominated in other ways. Microsoft Windows 10 has experienced similar deployment struggles as proprietary developers have searched for better solutions to support consumers and enterprise users.