Release of KDE Frameworks 5.43.0
Submitted by Roy Schestowitz on Tuesday 13th of February 2018 12:30:05 AM
Filed under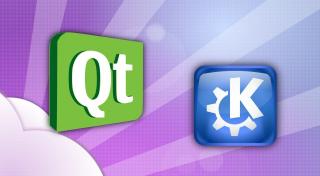 KDE today announces the release of KDE Frameworks 5.43.0.
KDE Frameworks are 70 addon libraries to Qt which provide a wide variety of commonly needed functionality in mature, peer reviewed and well tested libraries with friendly licensing terms. For an introduction see the Frameworks 5.0 release announcement.
This release is part of a series of planned monthly releases making improvements available to developers in a quick and predictable manner.
Also: KDE Frameworks 5.43 Released With KHolidays Module, glTF/Coillada Highlighting
»
Printer-friendly version

1314 reads

PDF version
More in Tux Machines
Events: FOSDEM Samba Talks, USENIX Enigma, LCA (linux.conf.au) and FAST18

Security: Vista10 and uTorrent Holes Found by Google

Red Hat introduces updated decision management platform

Troubleshoot a network? No problem. Write a 3,000 word article on Kubernetes cloud container management? When do you want it. Talk to a few hundred people about Linux's history? Been there, done that. Manage a business's delivery routing and shift scheduling? I'll break out in a cold sweat. If you too find the nuts and bolts of business processing management a nightmare, you'll want to check out Red Hat's latest program: Red Hat Decision Manager 7.

KDE Says Its Next Plasma Desktop Release Will Start a Full Second Faster

According to the developer, the upcoming KDE Plasma 5.13 desktop environment release will start a full second faster than previous versions because of the removal of the QmlObjectIncubationController component, which apparently slowed down the entire desktop, and promises to let users pin apps on the panel that contain spaces in their desktop file names. Goodies are also coming to the upcoming KDE Applications 18.04 software suite this spring, which makes creating of new files with the Dolphin file manager instantaneous, improves drag-and-drop support from Spectacle to Chromium, and lets users configure the Gwenview image viewer to no longer display the image action buttons on thumbnails when they hover with the mouse cursor over them.