Linux On Nintendo Switch? Hackers Show That It's Possible
Submitted by Rianne Schestowitz on Monday 12th of February 2018 10:48:01 AM
Filed under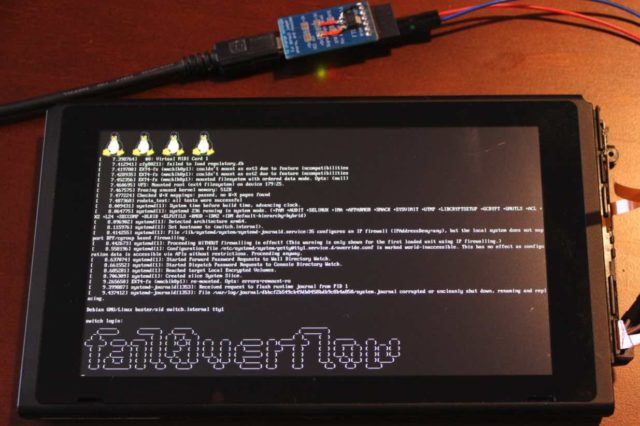 Every popular hardware in today's times that tries to bind users to a particular software or operating system, becomes a target of hackers. They make continuous attempts to find ways to exploit the security measures. Along the similar lines, hacker group Fail0verflow has claimed to have found a Nintendo Switch hack.
The group has posted the picture of Switch booting a Debian GNU/Linux installation. The picture also shows a serial adapter connected to one Joy-Con docks. Notably, Fail0verflow is the same group that hacked Nintendo Wii and PlayStation 3.
»
Printer-friendly version

892 reads

PDF version
More in Tux Machines
Software and Games Leftovers

KDE and GNOME Leftovers

OSS: Project Names, Events, NSF and Mozilla, ArangoDB, Oracle, Bitcoin and More

Rust things I miss in C and learning to program is getting harder

Librsvg feels like it is reaching a tipping point, where suddenly it seems like it would be easier to just port some major parts from C to Rust than to just add accessors for them. Also, more and more of the meat of the library is in Rust now. I'm switching back and forth a lot between C and Rust these days, and C feels very, very primitive these days.

I have written several books that use Python to explain topics like Bayesian Statistics and Digital Signal Processing. Along with the books, I provide code that readers can download from GitHub. In order to work with this code, readers have to know some Python, but that's not enough. They also need a computer with Python and its supporting libraries, they have to know how to download code from GitHub, and then they have to know how to run the code they downloaded.

And that's where a lot of readers get into trouble.