Linux On Nintendo Switch? Hackers Show That It's Possible
Submitted by Rianne Schestowitz on Monday 12th of February 2018 10:48:01 AM
Filed under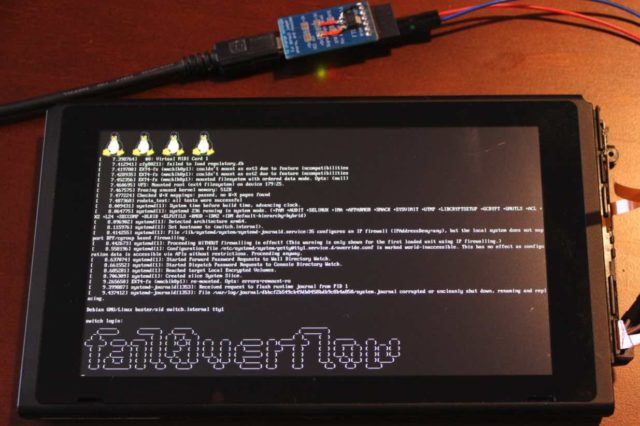 Every popular hardware in today's times that tries to bind users to a particular software or operating system, becomes a target of hackers. They make continuous attempts to find ways to exploit the security measures. Along the similar lines, hacker group Fail0verflow has claimed to have found a Nintendo Switch hack.
The group has posted the picture of Switch booting a Debian GNU/Linux installation. The picture also shows a serial adapter connected to one Joy-Con docks. Notably, Fail0verflow is the same group that hacked Nintendo Wii and PlayStation 3.
»
Printer-friendly version

1057 reads

PDF version
More in Tux Machines
Today in Techrights

today's leftovers

Software and Games: KStars, Opera, OpenStack, MariaDB and More

Huawei, Fuchsia and More

"In order to deliver the best user experience and prevent users from experiencing possible issues that could arise from ROM flashing, including system failure, stuttering, worsened battery performance, and risk of data being compromised, Huawei will cease providing bootloader unlock codes for devices launched after May 25, 2018. [...]"

 

Fuchsia, by its nature, comes with the potential for a handful of new opportunities for ad targeting. Let's peer into the dark side of Fuchsia's innovative features.

 

So the past month or two? The Quarterly results cycle came in. The item often of great interest is the Apple iPhone performance. 52.2 million iPhones shipped and that gives roughly a flat market share compared to the year before, so about 14%-15%. I'll come and do the full math later of the quarterly data. That race is no longer in any way interesting.

But two Top 10 smartphone brands ARE in the news. One who is facing imminent death and the other who is making a miraculous return-from-dead. So imminent death and current Top 10 brand first. ZTE. The Trump administration has put a massive squeeze on ZTE and the company is in serious trouble of imminent collapse. Then bizarrely, Trump reversed course and felt he needed to protect CHINESE employment (???) and after yet another typical Trump-mess, we now are at a Never-Neverland where Trump's own party Republicans are revolting against their President and well, ZTE may end up a casualty of this mess. We'll keep an eye on it.