Benchmarking Clear Linux With KPTI + Retpoline Support
Submitted by Rianne Schestowitz on Tuesday 9th of January 2018 04:21:57 PM
Filed under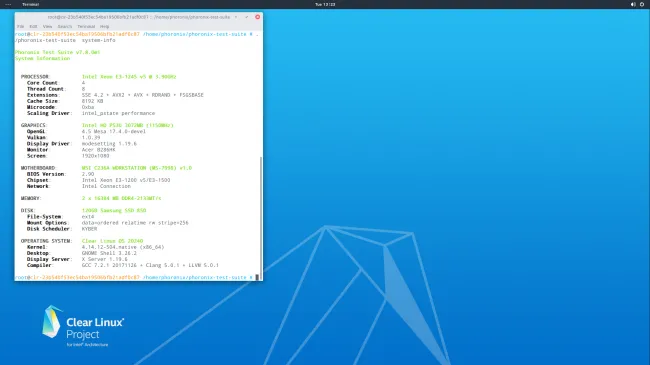 Yesterday Intel landed KPTI page table isolation and Retpoline support in their Clear Linux distribution. Given that one of the pillars of this Intel Open-Source Technology Center platform is on delivering optimal Linux performance, I was curious to see how its performance was impacted. Here are before/after benchmarks on seven different systems ranging from low-end Pentium hardware to Xeon servers.
»
Printer-friendly version

1392 reads

PDF version
More in Tux Machines
Linux-Ready Hardware and Android Leftovers

Red Hat, Oracle's RHEL Clone, and Fedora

The Unbreakable Enterprise Kernel (UEK), included as part of Oracle Linux, provides the latest open source innovations, optimizations and security for enterprise cloud workloads. The UEK Release 4 Update 6, based on the upstream kernel 4.1, is the current UEK release that powers the production workloads on Oracle Linux 7 or 6 in the cloud or on-premises.

Oracle's current Unbreakable Enterprise Kernel (UEK) release is making use of Linux 4.1 that is definitely showing its age... Fortunately, for those using this Oracle spin of the Linux kernel on their RHEL-clone Oracle Linux have UEK Release 5 in the pipe that is transitioning to Linux 4.14 LTS.

An ostree-based system like Fedora Atomic Workstation makes the recovery painless. In the case I mentioned, I simply rebooted, selected my previous, working image from the grub menu, and was back to a working system in 3 minutes. No time lost.

Debian and Derivatives: SnowCamp, Debian Gitlab, Debian/TeX Live, Snap Apps

Games: Deep Sixed, Streets of Rogue, Shroud of the Avatar: Forsaken Virtues and More

One of the people behind the recently release Deep Sixed [Steam] has been talking about Linux sales for their title, turns out it's been worth it so far. See Also: My thoughts on Deep Sixed.

Last month, ERSATZ [Steam, Official Site], the speed focused hardcore action-platformer with a musical twist added Linux support and since I love a good beat I gave it a go. Here's some thoughts.