How to use Fossdroid to get open source Android apps
Submitted by Roy Schestowitz on Thursday 7th of December 2017 10:14:54 AM
Filed under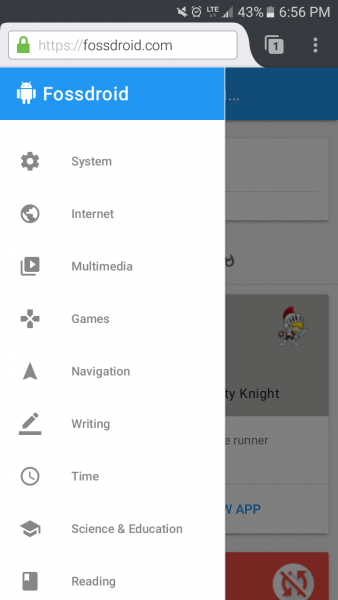 Fossdroid is an alternate web interface for the F‑Droid repository of open source apps for the Android operating system. Unlike the official F‑Droid website, Fossdroid's design is based on the Google Play Store, which gives users who have never used an external app repository a familiar interface to search, browse, and install Android apps. Users who use a lot of F‑Droid apps should install the F‑Droid app, which can install apps and keep them automatically updated, but Fossdroid provides a nice way to explore what the F‑Droid repository offers. Here's how to use the Fossdroid website to find, download, and install apps.
»
Printer-friendly version

1362 reads

PDF version
More in Tux Machines
Android Leftovers

The Smallest Server Suite Now Ships with Linux 4.9.69 LTS and OpenSSL 1.0.2n

A minor update to the 23.0 stable series, TheSSS 23.2 is here about three weeks after version 23.1 to update a few core components of its built-in LAMP (Linux, Apache, MariaDB, and PHP) server. Therefore, the live system now runs Linux kernel 4.9.69 LTS, Apache 2.4.29, MariaDB 10.2.11, and PHP 7.0.26. PHP 5.6.32 is installed as well to provide users with extra compatibility for older PHP5 scripts, and TheSSS 23.2 also ships with the latest OpenSSL 1.0.2n commercial-grade Secure Sockets Layer (SSL) and Transport Layer Security (TLS) toolkit and Stunnel 5.44 proxy tool.

Linux Foundation: New Silver Members, OpenContrail, and Xen

What Are Containers and Why Should You Care?

What are containers? Do you need them? Why? In this article, we aim to answer some of these basic questions. But, to answer these questions, we need more questions. When you start considering how containers might fit into your world, you need to ask: Where do you develop your application? Where do you test it and where is it deployed?