How to use Fossdroid to get open source Android apps
Submitted by Roy Schestowitz on Thursday 7th of December 2017 10:14:54 AM
Filed under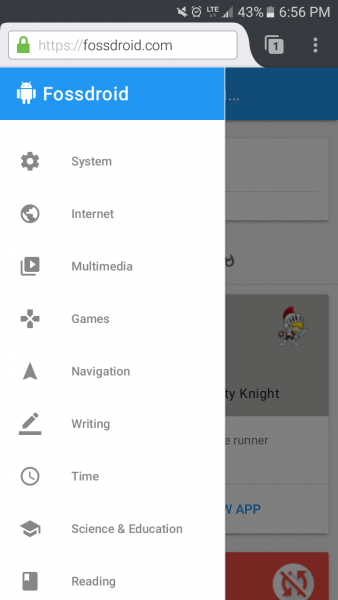 Fossdroid is an alternate web interface for the F‑Droid repository of open source apps for the Android operating system. Unlike the official F‑Droid website, Fossdroid's design is based on the Google Play Store, which gives users who have never used an external app repository a familiar interface to search, browse, and install Android apps. Users who use a lot of F‑Droid apps should install the F‑Droid app, which can install apps and keep them automatically updated, but Fossdroid provides a nice way to explore what the F‑Droid repository offers. Here's how to use the Fossdroid website to find, download, and install apps.
»
Printer-friendly version

1846 reads

PDF version
More in Tux Machines
Android Leftovers

NVIDIA GeForce RTX 2070 OpenCL, CUDA, TensorFlow GPU Compute Benchmarks

Here are the first of our benchmarks for the GeForce RTX 2070 graphics card that launched this week. In our inaugural Ubuntu Linux benchmarking with the GeForce RTX 2070 is a look at the OpenCL / CUDA GPU computing performance including with TensorFlow and various models being tested on the GPU. The benchmarks are compared to an assortment of available graphics cards and also include metrics for power consumption, performance-per-Watt, and performance-per-dollar.

Introduction To BASH Scripting - Learn BASH #1

Welcome to the introductory series on BASH scripting. This series will cover a complete guide on BASH starting from the foundation of computer programming then progressing on to the basic constructs of this scripting language and finally, you will also create a simple mini-project using this scripting language.

Games: Hand of Fate 2, Rocket League, Reigns: Game of Thrones

Ready to face the Dealer once again? Hand of Fate 2, the excellent mix of card-based board game exploration with action-RPG combat has a new DLC out with The Servant and the Beast.

There's a few bits of Rocket League news to go over today, with the start being the Halloween event which is now live. The event runs until Monday, November 5th at 10:00 PM UTC. During this time, you will be able to earn Candy Corn which can be used to unlock special Halloween-themed items as well as open some special crates to get some extra customisation items. You will have until Thursday, November 8th at 10:00 PM UTC to spend all of your Candy Corn.

Reigns: Game of Thrones is the new entry to the Reigns series that has you swiping left and right to make decisions and hopefully not get murdered. It's released today with same-day Linux support, as a fan of Game of Thrones I couldn't be happier to see a themed game officially supported on Linux.