Announcing KTechLab 0.40.0
Submitted by Rianne Schestowitz on Tuesday 14th of November 2017 03:31:06 PM
Filed under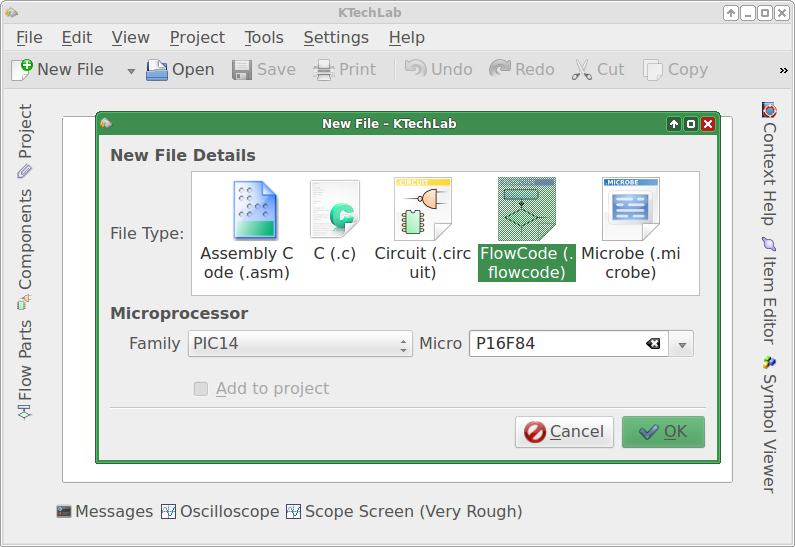 KTechLab, the IDE for microcontrollers and electronics, has reached a new milestone: its latest release, 0.40.0, does not depend on KDE3 and Qt3, but on KDE4 and Qt4. This means that KTechLab can be compiled and run on current operating systems.
In the new, KDE4 and Qt4 based release, practically all features of the previous version are kept. Circuits, including PIC microcontrollers can be simulated, the programs running on PICs can be edited in C, ASM format, or graphically, by using Flowcode, and these programs can be easily prepared for programming real PICs. The only feature which has been removed is DCOP integration, which is not available in KDE4, and should be replaced with D-Bus integration.
Also: KTechLab Microcontroller/Electronics IDE Ported To KDE4/Qt4
»
Printer-friendly version

1331 reads

PDF version
More in Tux Machines
Five-Way Linux OS Comparison On Amazon's ARM Graviton CPU

Last month Amazon rolled out their "Graviton" ARM processors in the Elastic Compute Cloud. Those first-generation Graviton ARMv8 processors are based on the ARM Cortex-A72 cores and designed to offer better pricing than traditional x86_64 EC2 instances. However, our initial testing of the Amazon Graviton EC2 "A1" instances didn't reveal significant performance-per-dollar benefits for these new instances. In this second round of Graviton CPU benchmarking we are seeing what is the fastest of five of the leading ARM Linux distributions. An Amazon EC2 a1.4xlarge instance with 16 cores / 32GB RAM was used for this round of benchmarking across the five most common ARM Linux distributions that were available at the time of testing on the Elastic Compute Cloud. The tests included: Amazon Linux 2 - The reference Amazon Linux machine image with the Linux 4.14 kernel and GCC 7.3.

Take a swim at your Linux terminal with asciiquarium

We're now nearing the end of our 24-day-long Linux command-line toys advent calendar. Just one week left after today! If this is your first visit to the series, you might be asking yourself what a command-line toy even is. We're figuring that out as we go, but generally, it could be a game, or any simple diversion that helps you have fun at the terminal.

Photography and Linux

So, as you can see, except for the printing step, pretty much the whole workflow is handled very easily by Linux and open-source photography software. Could I have done the whole thing in Linux? Yes and no. Depending on your printing needs, you could forego the printer entirely and use a local professional printing service. Many of those shops use the ROES system for the uploading and management of images to be printed. The ROES client is written in Java and is compatible with Linux. If you invest in a large format printer, you may have to investigate using a solution similar to what I have set up. Open-source software RIPs exist, but they have not been updated for more than a decade. Some commercial Linux solutions are available, but they are prohibitively expensive.

Linux 3.18.130

I'm announcing the release of the 3.18.130 kernel. All users of the 3.18 kernel series must upgrade. The updated 3.18.y git tree can be found at: git://git.kernel.org/pub/scm/linux/kernel/git/stable/linux-stable.git linux-3.18.y and can be browsed at the normal kernel.org git web browser: http://git.kernel.org/?p=linux/kernel/git/stable/linux-st...