ExTiX 17.8 – "The Ultimate Linux System" – with LXQt 0.11.1, Refracta tools, Nvidia 384.90 and kernel 4.13.0-15-exton – Build 171012
Submitted by Roy Schestowitz on Thursday 12th of October 2017 01:49:54 PM
Filed under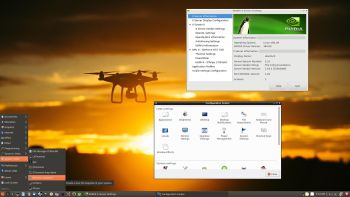 I have made a new version of ExTiX – The Ultimate Linux System. I call it ExTiX 17.8 LXQt Live DVD. (The previous version was 17.4 from 170418).
ABOUT
ExTiX 17.8 LXQt DVD 64 bit is based on Debian 9 Stretch and Ubuntu 17.10 Artful Aardvark, to be released 171019. The original system includes the Desktop Environment Gnome. After removing Gnome I have installed LXQt 0.11.1. LXQt is the Qt port and the upcoming version of LXDE, the Lightweight Desktop Environment. It is the product of the merge between the LXDE-Qt and the Razor-qt projects: A lightweight, modular, blazing-fast and user-friendly desktop environment.
The system language is ENGLISH.
»
Printer-friendly version

2908 reads

PDF version
More in Tux Machines
Software: Latte Dock, Emacs, Ick, REAPER

today's howtos

Red Hat News

At Rest Encryption

There are many steps you can take to harden a computer, and a common recommendation you'll see in hardening guides is to enable disk encryption. Disk encryption also often is referred to as "at rest encryption", especially in security compliance guides, and many compliance regimes, such as PCI, mandate the use of at rest encryption. This term refers to the fact that data is encrypted "at rest" or when the disk is unmounted and not in use. At rest encryption can be an important part of system-hardening, yet many administrators who enable it, whether on workstations or servers, may end up with a false sense of security if they don't understand not only what disk encryption protects you from, but also, and more important, what it doesn't.