Q4OS 2.4 Scorpion, stable
Submitted by Roy Schestowitz on Tuesday 10th of October 2017 09:42:38 AM
Filed under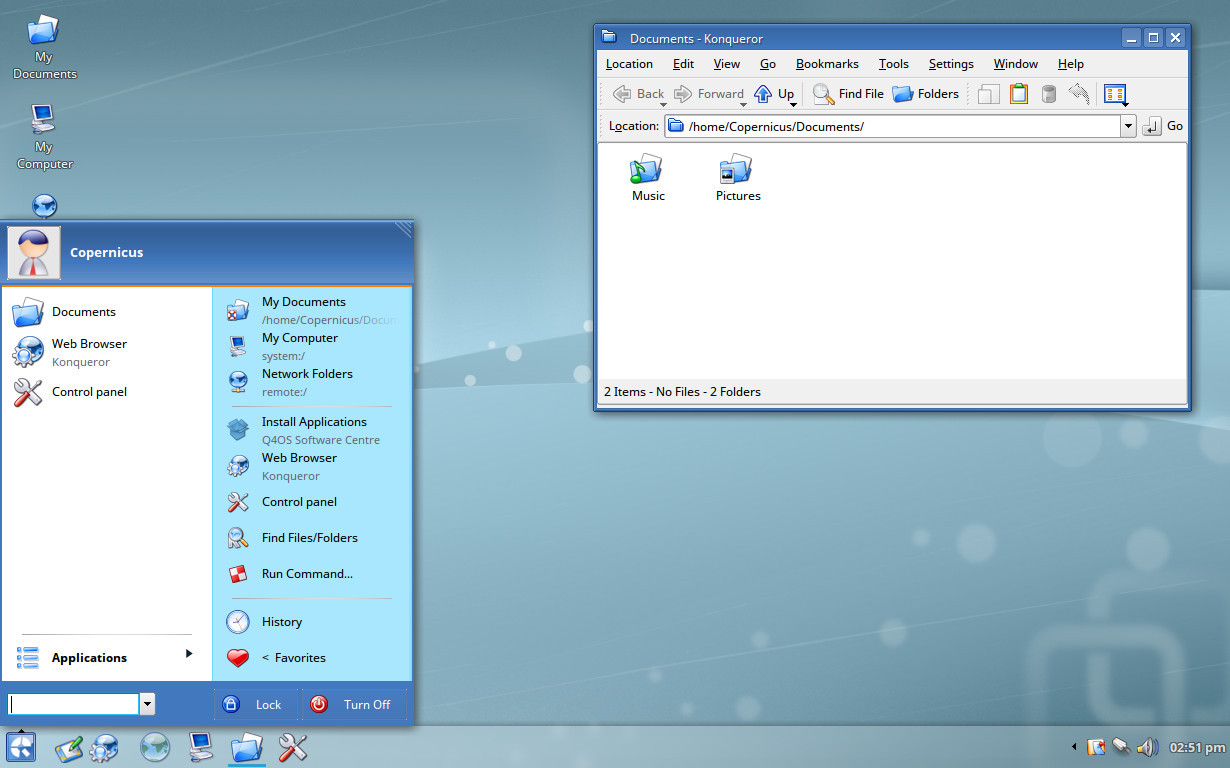 We are proud to announce the immediate availability of the brand new stable Q4OS 2.4 version codenamed 'Scorpion'. This is a long-term support LTS release, to be supported for at least five years with security patches and software updates. Q4OS Scorpion is based on Debian Stretch 9.2 and Trinity 14.0.5 desktop environment and it is available for 64bit and 32bit/i686pae computers, as well as i386 systems without PAE extension. We are working hard to release Q4OS Scorpion editions for 64bit and 32bit ARM architectures as soon as possible.
Q4OS offers its own exclusive utilities and features, especially the 'Desktop profiler' for profiling your computer into different professional working tools, 'Setup utility' for the smooth installation of third-party applications, a 'Welcome Screen' with several integrated shortcuts to make system configuration easier for novice users, KDE5, XFCE, LXDE, Cinnamon and LXQT alternative environments installation option and many more.
»
Printer-friendly version

1010 reads

PDF version
More in Tux Machines
Servers: Containers, 'Cloud', Microservices, and Hyperledger

Games: Steam Sale, Skirmish Line, Maia, Observer

Canonical on Path to IPO as Ubuntu Unity Linux Desktop Gets Ditched

In October 2010, Mark Shuttleworth, founder of the Ubuntu open-source operating system and CEO of Canonical, announced his grand plan to build a converged Linux desktop that would work on mobile devices, desktops and even TVs. He called the effort "Unity" and poured significant financial resources into it. Seven years later, the Unity dream is dead. On Oct. 19, Ubuntu 17.10 was released as the first Ubuntu Linux version since 2010 that didn't use Unity as the default Linux desktop. In a video interview with eWEEK, Shuttleworth details the rationale behind his decision to cancel Unity and why he has now put his company on the path toward an initial public offering (IPO). Because Ubuntu has moved into the mainstream in a bunch of areas, including the cloud, he said some of the things his company had been doing were never going to be commercially sustainable. Also: Ubuntu 17.10 delivers new desktop and cloud enhancements

More "Linux On Galaxy"

Samsung is bringing desktop Linux to its smartphones. The 'Linux on Galaxy' project will let users "run Linux-based distributions on mobile devices".

echnology companies have worked in the past to let your smartphones work like desktop computers; Microsoft's Continuum is the most notable effort in this direction. The latest attempt was made by Samsung. The company, with the launch of its flagship Galaxy S8, introduced the new DeX dock.