Q4OS 2.4 Scorpion, stable
Submitted by Roy Schestowitz on Tuesday 10th of October 2017 09:42:38 AM
Filed under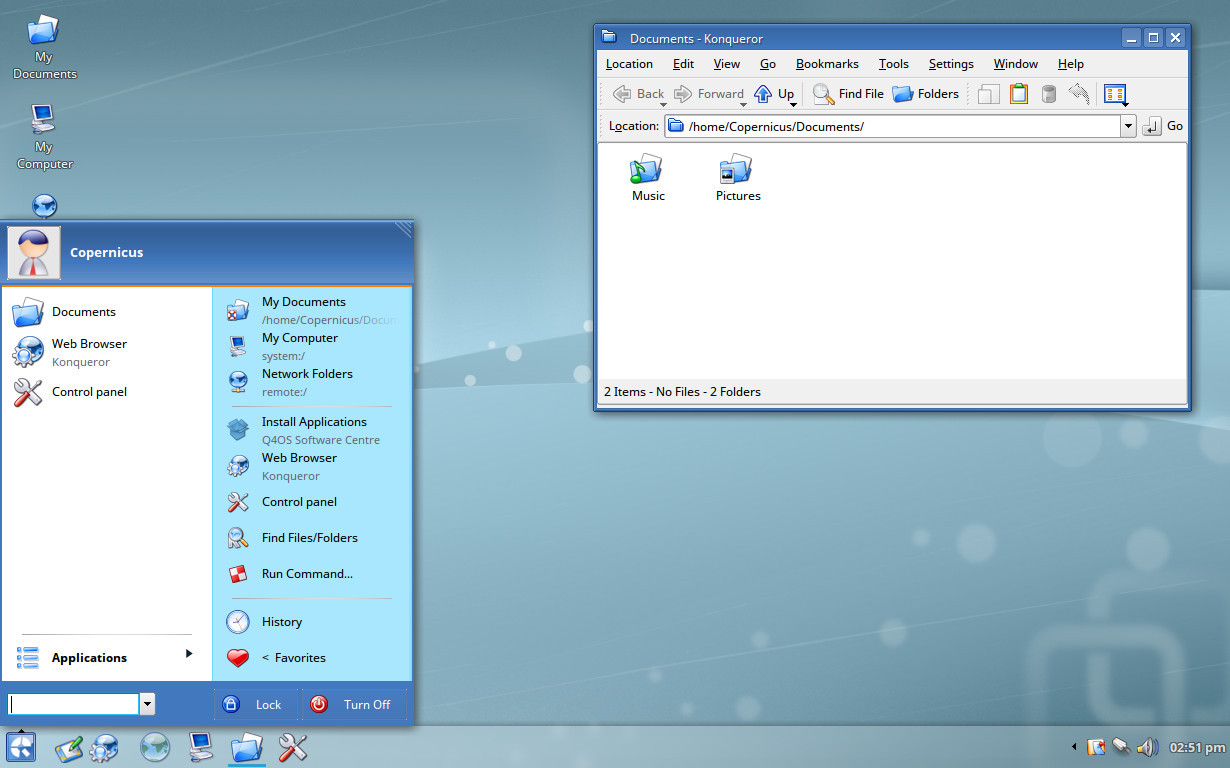 We are proud to announce the immediate availability of the brand new stable Q4OS 2.4 version codenamed 'Scorpion'. This is a long-term support LTS release, to be supported for at least five years with security patches and software updates. Q4OS Scorpion is based on Debian Stretch 9.2 and Trinity 14.0.5 desktop environment and it is available for 64bit and 32bit/i686pae computers, as well as i386 systems without PAE extension. We are working hard to release Q4OS Scorpion editions for 64bit and 32bit ARM architectures as soon as possible.
Q4OS offers its own exclusive utilities and features, especially the 'Desktop profiler' for profiling your computer into different professional working tools, 'Setup utility' for the smooth installation of third-party applications, a 'Welcome Screen' with several integrated shortcuts to make system configuration easier for novice users, KDE5, XFCE, LXDE, Cinnamon and LXQT alternative environments installation option and many more.
»
Printer-friendly version

1909 reads

PDF version
More in Tux Machines
OSS Leftovers

KDE: Discover, Qt Creator, LibAlkimia

SwagArch 18.02 - U Got Swag?

SwagArch sounds like an interesting concept. The aesthetic side of things is reasonable, although brown as a color and a dark theme make for a tricky choice. The fonts are pretty good overall. But the visual element is the least of the distro's problems. SwagArch 18.02 didn't deliver the basics, and that's what made Dedoimedo sad. Network support plus the clock issue, horrible package management and broken programs, those are things that must work perfectly. Without them, the system has no value. So you do get multimedia support and a few unique apps, however that cannot balance out all the woes and problems that I encountered. All in all, Swag needs a lot more work. Also, it will have a tough time competing with Manjaro and Antergos, which are already established and fairly robust Arch spins. Lastly, it needs to narrow down its focus. The overall integration of elements is pretty weak. Eclectic, jumbled, not really tested. 2/10 for now. Let's see how it evolves.

How Open Source Approach is Impacting Science

Dive into the exciting world of Innovative Science to explore and find out about how the Linux-based Operating System and Open Source are playing a significant role in the major scientific breakthroughs that are taking place in our daily lives.