CIA Uses "AfterMidnight" and "Assassin" Against Windows
Submitted by Roy Schestowitz on Friday 12th of May 2017 05:40:28 PM
Filed under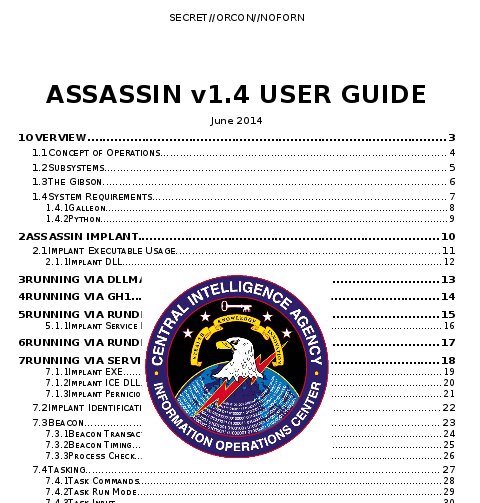 Today, May 12th 2017, WikiLeaks publishes "AfterMidnight" and "Assassin", two CIA malware frameworks for the Microsoft Windows platform.
"AfterMidnight" allows operators to dynamically load and execute malware payloads on a target machine. The main controller disguises as a self-persisting Windows Service DLL and provides secure execution of "Gremlins" via a HTTPS based Listening Post (LP) system called "Octopus". Once installed on a target machine AM will call back to a configured LP on a configurable schedule, checking to see if there is a new plan for it to execute. If there is, it downloads and stores all needed components before loading all new gremlins in memory. "Gremlins" are small AM payloads that are meant to run hidden on the target and either subvert the functionality of targeted software, survey the target (including data exfiltration) or provide internal services for other gremlins. The special payload "AlphaGremlin" even has a custom script language which allows operators to schedule custom tasks to be executed on the target machine.
"Assassin" is a similar kind of malware; it is an automated implant that provides a simple collection platform on remote computers running the Microsoft Windows operating system. Once the tool is installed on the target, the implant is run within a Windows service process. "Assassin" (just like "AfterMidnight") will then periodically beacon to its configured listening post(s) to request tasking and deliver results. Communication occurs over one or more transport protocols as configured before or during deployment. The "Assassin" C2 (Command and Control) and LP (Listening Post) subsystems are referred to collectively as" The Gibson" and allow operators to perform specific tasks on an infected target.
»
Printer-friendly version

1853 reads

PDF version
More in Tux Machines
Introducing the potential new Ubuntu Studio Council

Back in 2016, Set Hallström was elected as the new Team Lead for Ubuntu Studio, just in time for the 16.04 Xenial Long Term Support (LTS) release. It was intended that Ubuntu Studio would be able to utilise Set's leadership skills at least up until the next LTS release in April 2018. Unfortunately, as happens occasionally in the world of volunteer work, Set's personal circumstances changed and he is no longer able to devote as much time to Ubuntu Studio as he would like. Therefore, an IRC meeting was held between interested Ubuntu Studio contributors on 21st May 2017 to agree on how to fill the void. We decided to follow the lead of Xubuntu and create a Council to take care of Ubuntu Studio, rather than continuing to place the burden of leadership on the shoulder of one particular person. Unfortunately, although the result was an agreement to form the first Ubuntu Studio Council from the meeting participants, we all got busy and the council was never set up.

today's leftovers

On the Linux Desktop, there are quite a few choices for email applications. Each of these has their own pros and cons which should be weighed depending on one's needs. Some clients will have MS Exchange support. Others do not. In general, because email is reasonably close to free (and yes, we can thank Hotmail for that) it has been a difficult place to make money. Without a cash flow to encourage developers, development has trickled at best.

China's smartphone market has seen intense competition over the past few years with four local brands capturing more than 60 percent of sales in 2017. Huawei Technologies, Oppo, Vivo and Xiaomi Technology recorded strong shipment growth on a year-on-year basis. But some market experts warned that Oppo and Vivo may see the growth of their shipments slow this year as users become more discriminating.

The new Emergency SOS feature released by Apple for the iPhone is the one to blame for no less than 1,600 false calls to 911 since October, according to dispatchers. And surprisingly, emergency teams in Elk Grove and Sacramento County in California say they receive at least 20 such 911 calls every day from what appears to be an Apple service center. While it's not exactly clear why the iPhones that are probably brought in for repairs end up dialing 911, dispatchers told CBS that the false calls were first noticed in the fall of the last year. Apple launched new iPhones in September 2017 and they went on sale later the same month and in November, but it's not clear if these new devices are in any way related to the increasing number of accidental calls to 911.

The thin line that exists between entertainment industry DRM software and plain malware has been pointed out both recently and in the past. There are many layers to this onion, ranging from Sony's rootkit fiasco, to performance hits on machines thanks to DRM installed by video games, up to and including the insane idea that copyright holders ought to be able to use malware payloads to "hack back" against accused infringers. What is different in more recent times is the public awareness regarding DRM, computer security, and an overall fear of malware. This is a natural kind of progression, as the public becomes more connected and reliant on computer systems and the internet, they likewise become more concerned about those systems. That may likely explain the swift public backlash to a small game-modding studio seemingly installing something akin to malware in every installation of its software, whether from a legitimate purchase or piracy.

Server: Benchmarks, IBM and Red Hat

Vulkan Anniversary and Generic FBDEV Emulation Continues To Be Worked On For DRM Drivers

This last week marked two years since the debut of Vulkan 1.0, you can see our our original launch article. My overworked memory missed realizing it by a few days, but it's been a pretty miraculous two years for this high-performance graphics and compute API.

Noralf Trønnes has spent the past few months working on generic FBDEV emulation for Direct Rendering Manager (DRM) drivers and this week he volleyed his third revision of these patches, which now includes a new in-kernel API along with some clients like a bootsplash system, VT console, and fbdev implementation.