CIA Uses "AfterMidnight" and "Assassin" Against Windows
Submitted by Roy Schestowitz on Friday 12th of May 2017 05:40:28 PM
Filed under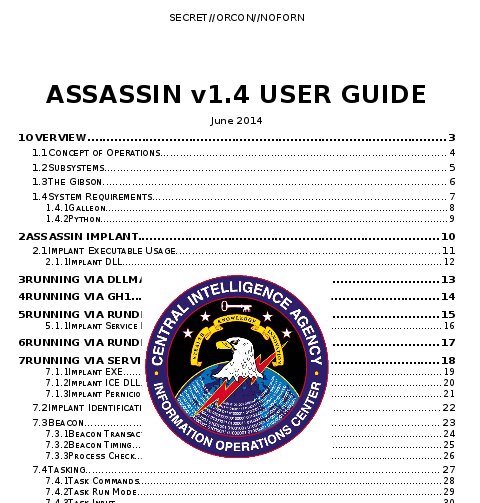 Today, May 12th 2017, WikiLeaks publishes "AfterMidnight" and "Assassin", two CIA malware frameworks for the Microsoft Windows platform.
"AfterMidnight" allows operators to dynamically load and execute malware payloads on a target machine. The main controller disguises as a self-persisting Windows Service DLL and provides secure execution of "Gremlins" via a HTTPS based Listening Post (LP) system called "Octopus". Once installed on a target machine AM will call back to a configured LP on a configurable schedule, checking to see if there is a new plan for it to execute. If there is, it downloads and stores all needed components before loading all new gremlins in memory. "Gremlins" are small AM payloads that are meant to run hidden on the target and either subvert the functionality of targeted software, survey the target (including data exfiltration) or provide internal services for other gremlins. The special payload "AlphaGremlin" even has a custom script language which allows operators to schedule custom tasks to be executed on the target machine.
"Assassin" is a similar kind of malware; it is an automated implant that provides a simple collection platform on remote computers running the Microsoft Windows operating system. Once the tool is installed on the target, the implant is run within a Windows service process. "Assassin" (just like "AfterMidnight") will then periodically beacon to its configured listening post(s) to request tasking and deliver results. Communication occurs over one or more transport protocols as configured before or during deployment. The "Assassin" C2 (Command and Control) and LP (Listening Post) subsystems are referred to collectively as" The Gibson" and allow operators to perform specific tasks on an infected target.
More in Tux Machines
How To Encrypt DNS Traffic In Linux Using DNSCrypt

​Dnscrypt is a protocol that is used to improve DNS security by authenticating communications between a DNS client and a DNS resolver. DNSCrypt prevents DNS spoofing. It uses cryptographic signatures to verify that responses originate from the chosen DNS resolver and haven't been tampered with. DNSCrypt is available for multi-platforms including Windows, MacOS, Unix, Android, iOS, Linux and even routers.

Debian-Based Untangle 13.0 Linux Firewall Tackles Bufferbloat, Adds New Features

Untangle NG Firewall, the open-source and powerful Debian-based network security platform featuring pluggable modules for network apps, has been updated to version 13.0, a major release adding new features and numerous improvements. The biggest improvement brought by the Untangle NG Firewall 13.0 release is to the poor latency generated by excess buffering in networking equipment, called bufferbloat, by supporting a queueing algorithm designed to optimize QoS and bandwidth to enforce a controlled delay.

Kernel Space: HMM, Cloud Native, Linux 4.12, TFS, Linux 4.11.2, and 4.10 EoL

ROSA Fresh R9

ROSA is a desktop distribution that was originally forked from Mandriva Linux, but now is independently developed. While the company which produces ROSA is based in Russia, the distribution includes complete translations for multiple languages. The ROSA desktop distribution is designed to be easy to use and includes a range of popular applications and multimedia support. ROSA R9 is available in two editions, one featuring the KDE 4 desktop and the second featuring the KDE Plasma 5 desktop. These editions are scheduled to receive four years of support and security updates. I decided to download the Plasma edition of ROSA R9 and found the installation media to be approximately 2GB in size. Booting from the ROSA disc brings up a menu asking if we would like to load the distribution's live desktop environment or begin the installation process. Taking the live option brings up a graphical wizard that asks us a few questions. We are asked to select our preferred language from a list and accept the project's warranty and license. We are then asked to select our time zone and keyboard layout from lists. With these steps completed, the wizard disappears and the Plasma 5.9 desktop loads.