CIA Uses "AfterMidnight" and "Assassin" Against Windows
Submitted by Roy Schestowitz on Friday 12th of May 2017 05:40:28 PM
Filed under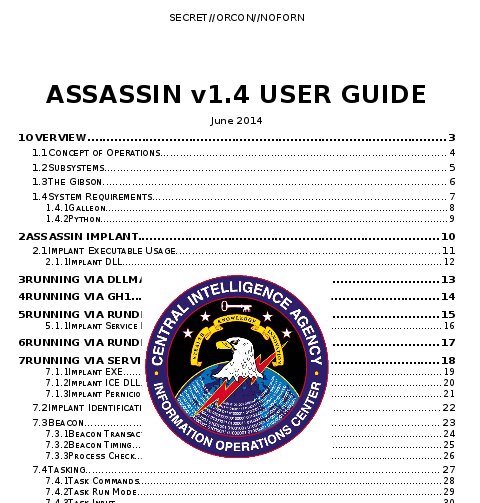 Today, May 12th 2017, WikiLeaks publishes "AfterMidnight" and "Assassin", two CIA malware frameworks for the Microsoft Windows platform.
"AfterMidnight" allows operators to dynamically load and execute malware payloads on a target machine. The main controller disguises as a self-persisting Windows Service DLL and provides secure execution of "Gremlins" via a HTTPS based Listening Post (LP) system called "Octopus". Once installed on a target machine AM will call back to a configured LP on a configurable schedule, checking to see if there is a new plan for it to execute. If there is, it downloads and stores all needed components before loading all new gremlins in memory. "Gremlins" are small AM payloads that are meant to run hidden on the target and either subvert the functionality of targeted software, survey the target (including data exfiltration) or provide internal services for other gremlins. The special payload "AlphaGremlin" even has a custom script language which allows operators to schedule custom tasks to be executed on the target machine.
"Assassin" is a similar kind of malware; it is an automated implant that provides a simple collection platform on remote computers running the Microsoft Windows operating system. Once the tool is installed on the target, the implant is run within a Windows service process. "Assassin" (just like "AfterMidnight") will then periodically beacon to its configured listening post(s) to request tasking and deliver results. Communication occurs over one or more transport protocols as configured before or during deployment. The "Assassin" C2 (Command and Control) and LP (Listening Post) subsystems are referred to collectively as" The Gibson" and allow operators to perform specific tasks on an infected target.
»
Printer-friendly version

2250 reads

PDF version
More in Tux Machines
Linux Kernel 4.15 Reached End of Life, Users Urged to Move to Linux 4.16 Now

After a very busy cycle due to the Meltdown and Spectre security vulnerabilities, which were publicly disclosed earlier this year and later discovered to put billions of devices using modern processors at risk of attacks, the Linux 4.15 kernel series was released at the of January heavily redesign against two critical hardware bugs. Now, nearly three months and only eighteen maintenance updates later, the Linux 4.15 kernel series reached end of life and it will no longer receive support. As such, all those using a kernel from the Linux 4.15 branch on their GNU/Linux distributions are urged to upgrade to the latest Linux 4.16 kernel series as soon as possible.

LibreOffice 6.1 Lands Mid August 2018, First Bug Hunting Session Starts April 27

Work on the next big release of the widely-used open-source and cross-platform office suite for GNU/Linux, macOS, and Microsoft Windows operating systems, LibreOffice 6.1, has already begun this week with a focus on revamping the online experience and improving the Writer and Calc components. A first bug hunting session was scheduled for the end of next week, on April 27, 2018, when developers will hack on the first alpha milestone of LibreOffice 6.1, which should be available to download for all supported platforms a few days before the event. During the bug hunting session, devs will try to fix as many bugs as possible.

This Chart Shows How The Radeon RX 580 vs. GeForce GTX 1060 Now Compete Under Linux

It was just last year that open-source RadeonSI/RADV developers were trying to get the Radeon RX 580 "Polaris" GPU to be competitive with the GeForce GTX 1060 as it is under Windows given each GPU's capabilities. We've seen the RX 580 and GTX 1060 dancing under Linux the past few months and yesterday's 20-way GPU comparison with Rise of the Tomb Raider was quite significant -- perhaps most surprising being how well the RX 580 performed. Heck, just one or two years ago it was an accomplishment seeing any official Radeon driver support at-launch for new Linux game releases. So here are some extensive tests looking closer at the GTX 1060 vs. RX 580 battle in this latest Vulkan-powered Linux game port.

Linux 4.9.95

I'm announcing the release of the 4.9.95 kernel. All users of the 4.9 kernel series must upgrade. The updated 4.9.y git tree can be found at: git://git.kernel.org/pub/scm/linux/kernel/git/stable/linux-stable.git linux-4.9.y and can be browsed at the normal kernel.org git web browser: http://git.kernel.org/?p=linux/kernel/git/stable/linux-st...